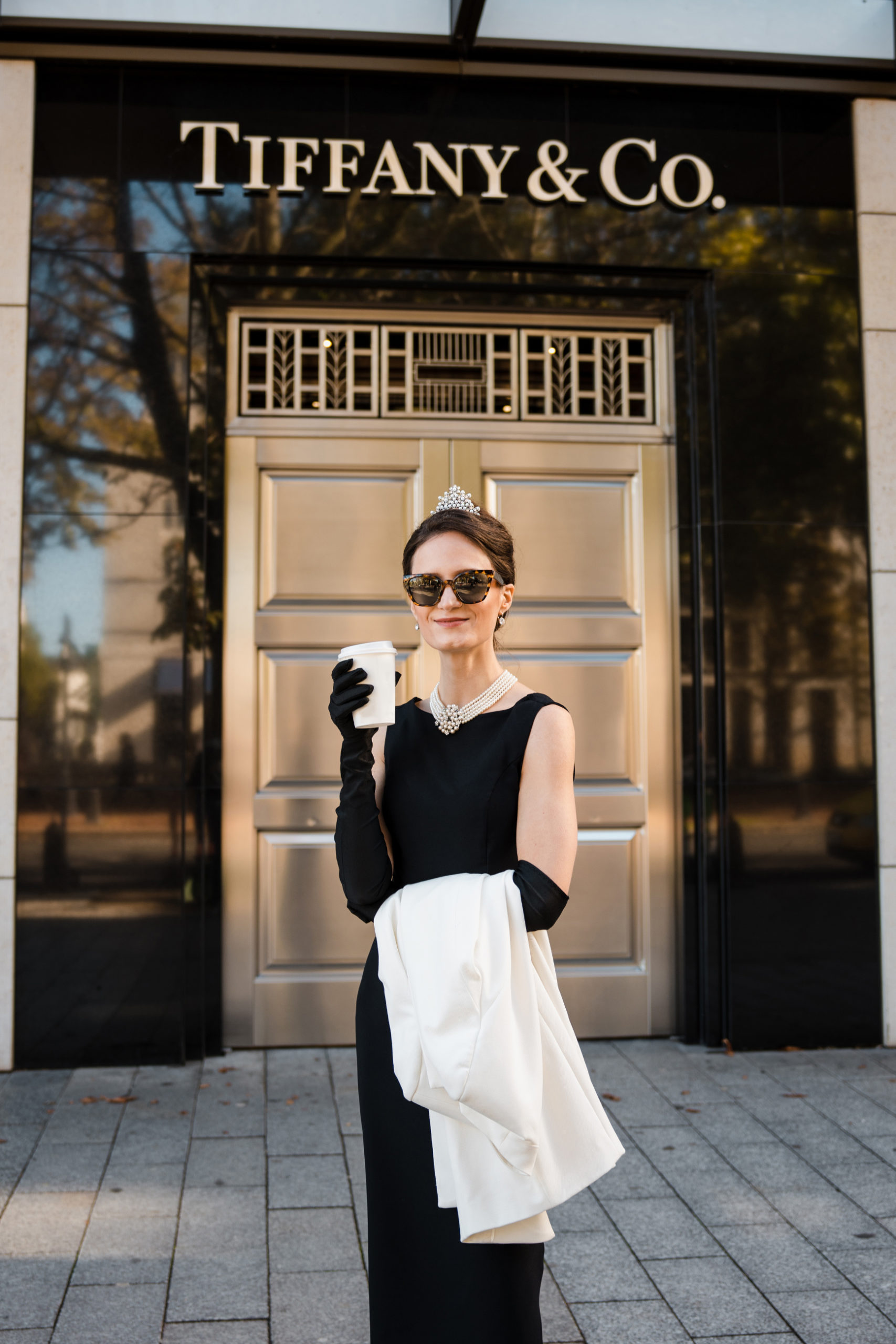 Without a doubt, Audrey Hepburn is my ultimate fashion icon and Breakfast at Tiffany's one of my favorite classic movies of all time. And while many people embrace everything spooky and dark for Halloween, I love to use this time of year as an excuse to recreate iconic looks from my favorite characters.
After dressing up as Audrey Hepburn aka Holly Golightly in her famous sleepwear two years ago, I knew I had to recreate her most iconic look in the little black dress some day. The famous opening scene with Audrey arriving in a yellow cab in front of Tiffany's, strolling around at 5th Avenue in a Givenchy little black dress, a coffee cup and a paper-bagged breakfast gets me every time. So this was the look I was aiming to replicate! If you are searching for a perfect guide to an Audrey Hepburn Halloween Costume, look no further!
As it took me quite some time to find the perfect accessories, good dress options and styling tutorials to recreate the look, I linked you everything below to have everything at a glance. From affordable to premium options and interesting facts regarding Audrey's pieces worn in the movie – I got you covered! The best thing: You can easily recreate this look – even if it's last minute!
Outfit: The Most Famous Black Dress Of All Time
First things first: The dress Audrey Hepburn is wearing during the opening scene of Breakfast at Tiffany's in 1961 was designed by Hubert de Givenchy. The black satin evening gown gives the character Holly Golightly an ultra-feminine, Parisian style and subsequently became a fashion staple that stood the test of time. It is referred to as one of the most iconic clothing items in the history of the twentieth century and film history (well-deserved, if you ask me!). Did you know that the dress even has it's own Wikipedia entry? Lastly, in 2010 the dress was chosen as the best dress ever worn by a woman in a film. I couldn't agree more!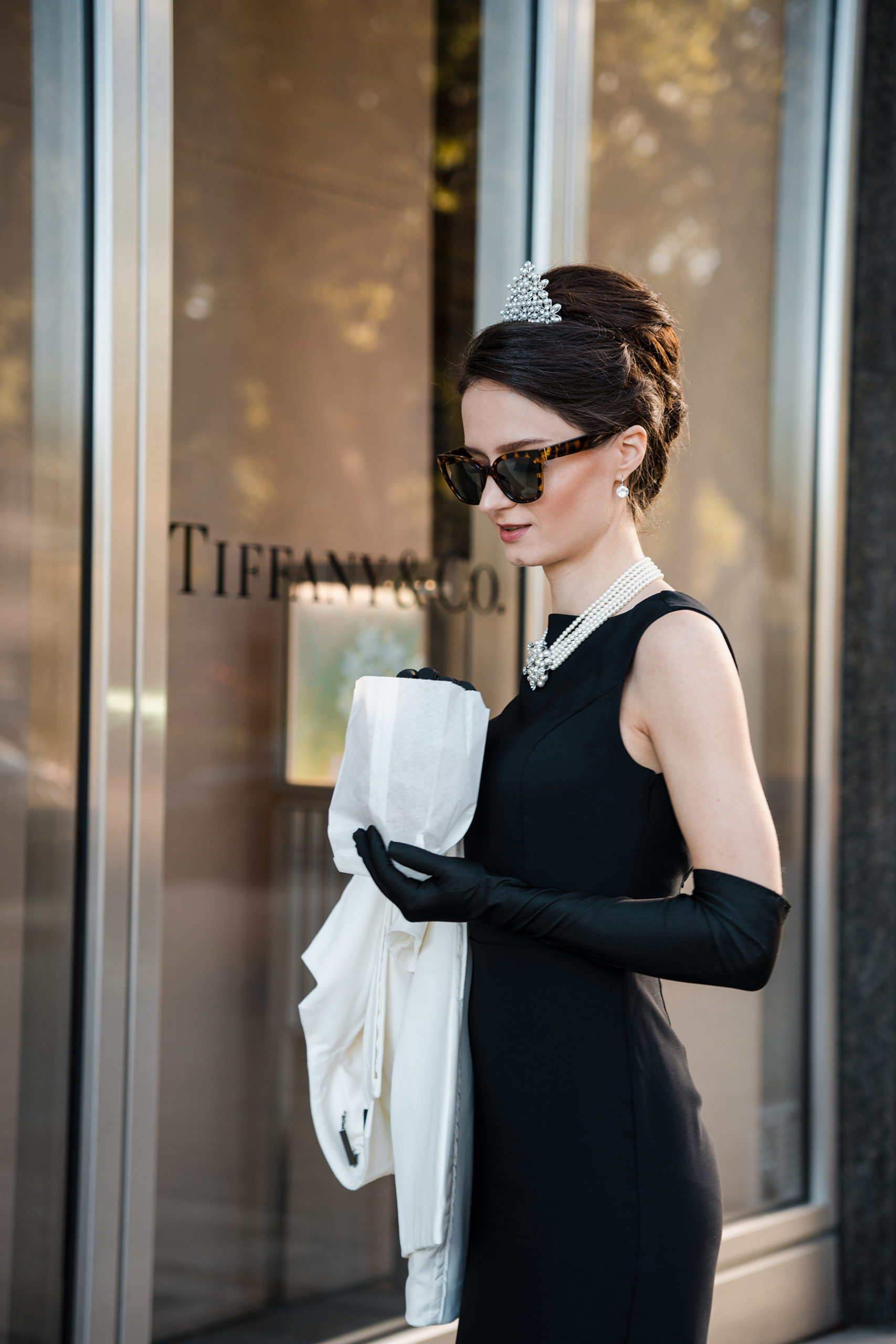 The details in the back as well as the feminine silhouette truly make the dress one of a kind, but you can find great alternatives in every price range. I chose this Trendyol dress as it came nearest with its high neckline in the front and open design at the back as well as a slith to the tigh on one side. But there are also great alternatives on both ends of the price spectrum, like this dress from H&M or this Solace London gown (which is definitely a splurge!).
A little black dress undoubtedly calls for some elegant heels. Audrey wore some kitten heels which gave her outfit a perfect finish. Instead, I went with a little bit higher heels, but the iconic look stays the same. Just choose the height that's comfortable for you.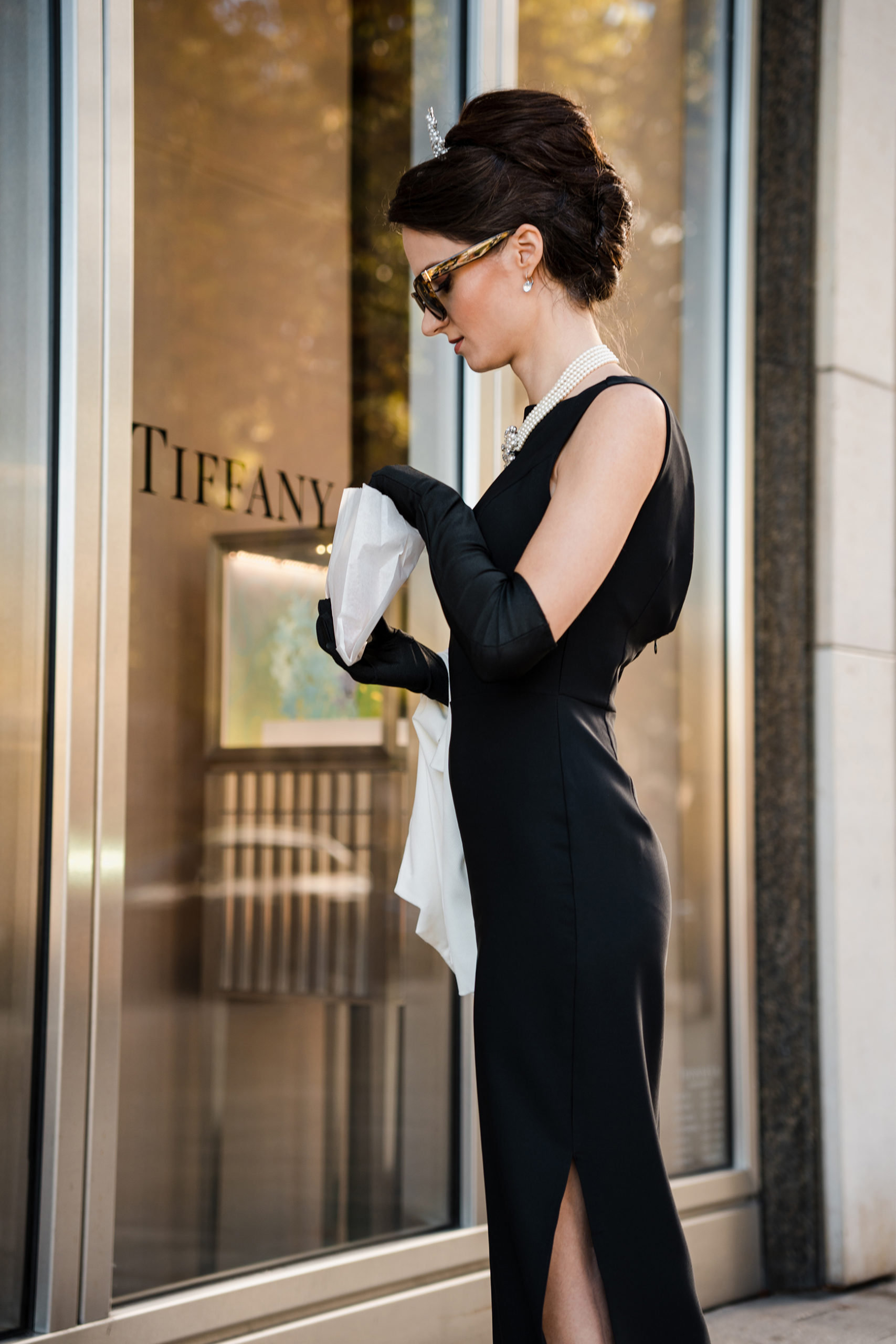 Accessories: Shine Bright Like a Diamond
No Audrey Hepburn Halloween costume without matching accessories! Here's everything you need for a finished look:
Jewelry
The highest attention and focus of this look, of course, lies on the jewelry. The five strand pearl necklace with a diamond embellishment at the front from French jewelry designer Roger Scemama is truly magnificent and today worth $3,500,000.
To get the look without paying a fortune I recommend having a look at Etsy, where I got my necklace from as well. On Amazon you also find great jewelry sets or alternatives to achieve the Audrey Hepburn look. I matched the necklace with my all-time favorite Swarovski earrings, but you can choose whatever studs you like – main thing is they shine bright like diamonds! Don't forget to wear a sparkling tiara as well (like this one from Utopiat).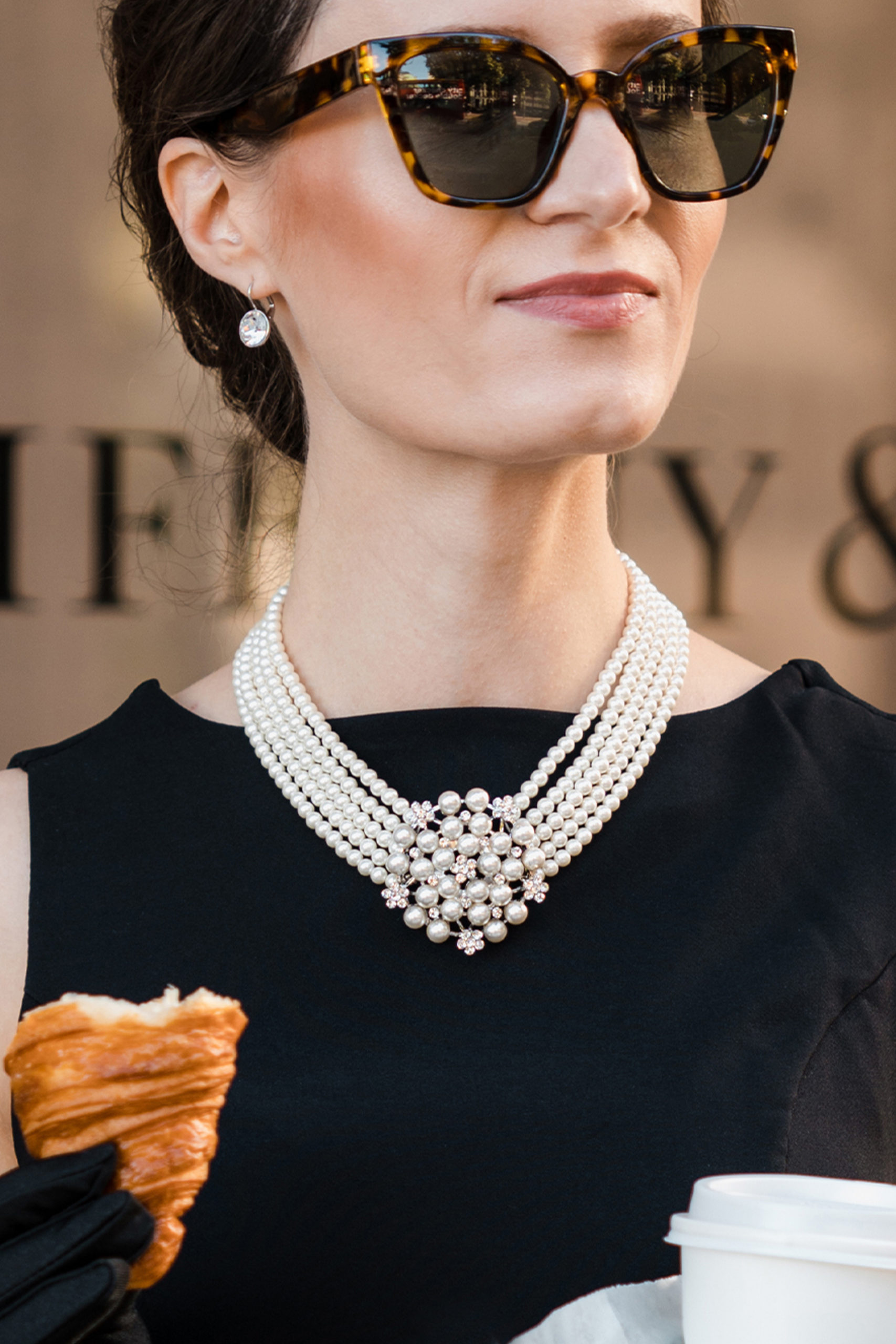 Cat-Eye Sunglasses
Arguably one of the most famous sunglasses ever worn are the ones from the movie's opening scene. Oliver Goldsmith designed the Hollywood icon's tortoiseshell shades, which you can buy here until today. What makes them the perfect, timeless sunglasses that have been copied countless times over decades? To me, it's the oversized, gently cat-eyed shape that simply never goes out of style. The sunglasses are an integral part of the character Holly Golightly as it gives her a nonchalant attitude, revealing only what she wanted us to see. Fun fact: Film buffs have spent years debating the meaning of every time Holly puts them on, takes them off or slides them down for a look that says more than thousand words.
I found the perfect pair of sunglasses at & Other Stories to compliment the outfit, but there are countless alternatives out there; even for a small budget if you only buy them for the costume (like this ones).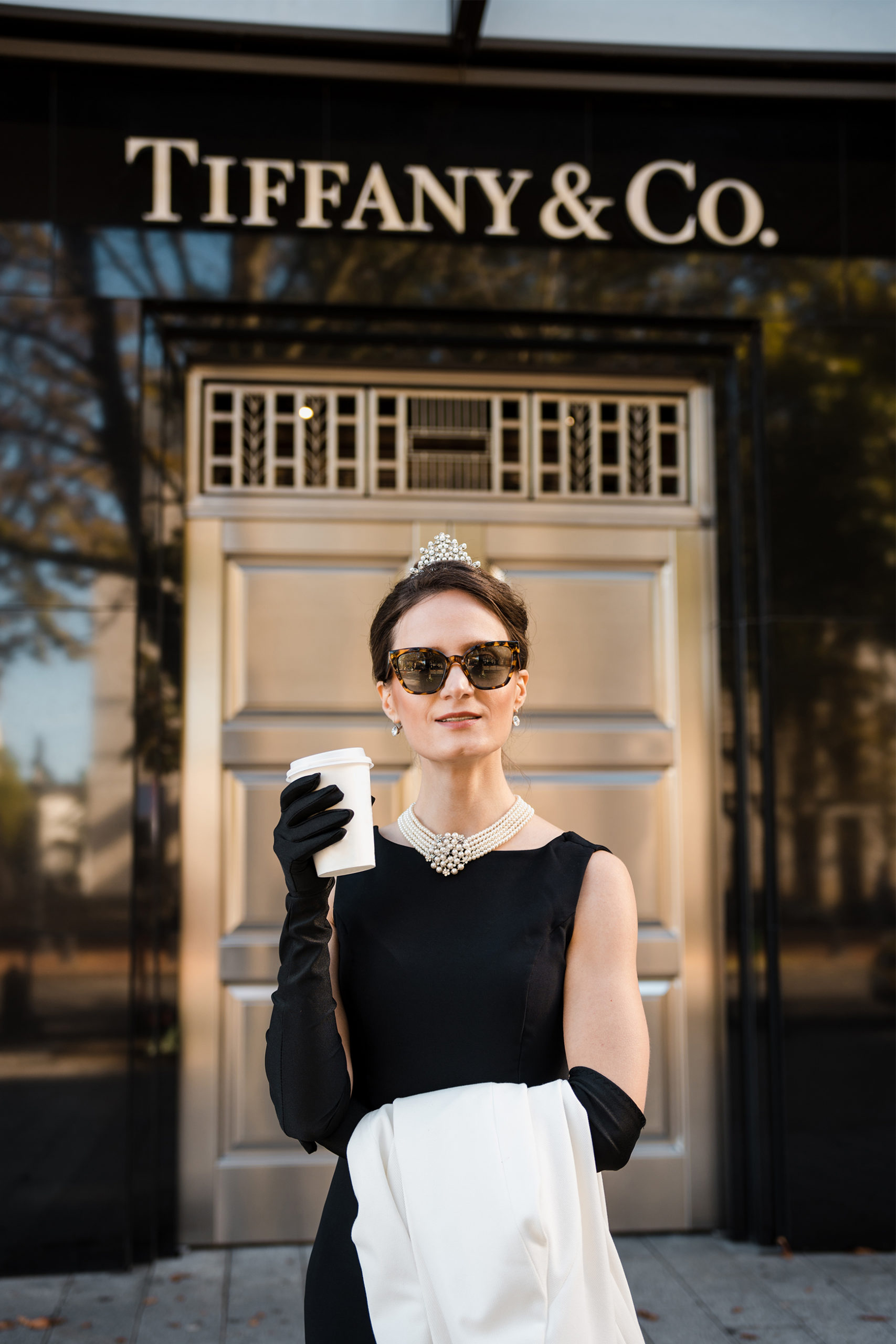 Black Gloves
Last but not least, your outfit is only complete with a matching pair of gloves the same color as your little black dress. They should come at least in an elbow-length to achieve the 'opera' look and give your outfit an extra touch of elegance. You can find a wide range of gloves at Amazon, like these from Savita. Here, you actually can't go wrong.
Hair And Makeup: More Is More
The complimenting makeup look for your Audrey Hepburn Halloween costume is easy to achieve: expressive eyebrows, a bold eyeliner and long, black eyelashes while keeping your lips soft and unagitated.
When it comes to the classic Audrey chignon it already gets a bit more tricky. You need A LOT of hair to achieve the height of the fun and legendary French twist Audrey wore in the opening scene at Breakfast at Tiffany's. With a little bit of practice and numerous tutorials out there, I'm sure you can channel the classic updo hairstyle. Believe me, I've watched almost every tutorial on YouTube and found the following video the most helpful and the achieved look the most similar to Audrey's original style. If there's one tutorial I'd recommend, it's this one:
When you're done, don't forget to place your sparkling tiara in the front section.
And ta-da – you have the Breakfast at Tiffany's hairstyle and completed your Audrey Hepburn Halloween costume!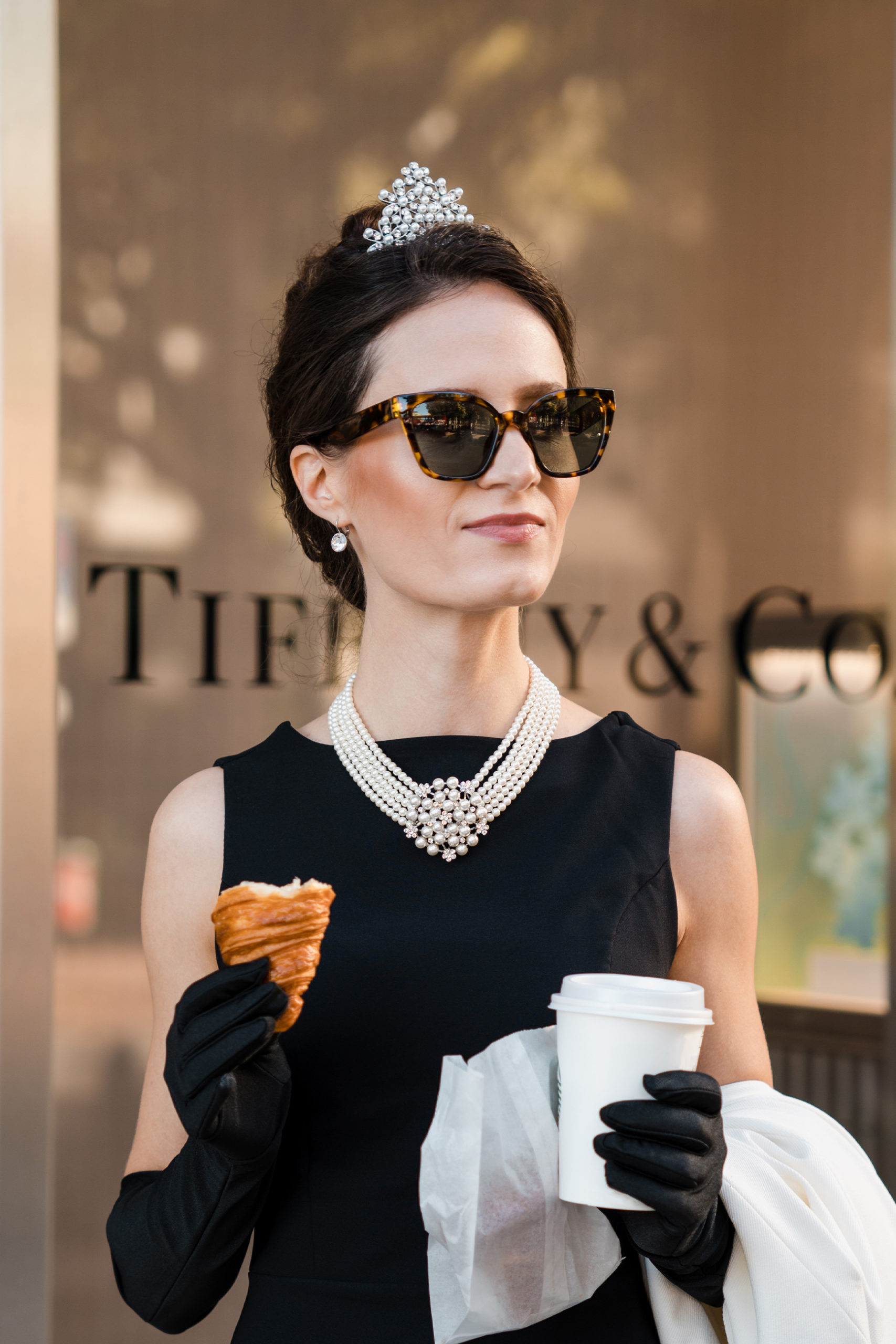 In case you are more on the comfy side, check out my blog post on the Holly Golightly sleepwear look from Breakfast at Tiffany's!
Happy Halloween, lovelies!
With much love,
Teresa