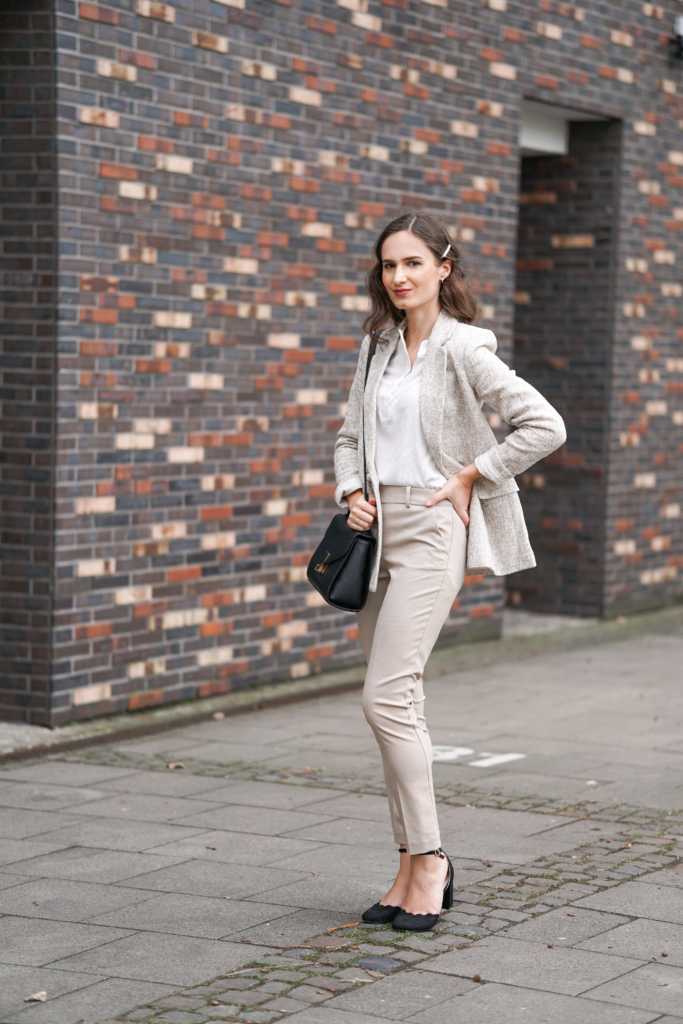 ---
Shop the look

---
As many of you may know, I have a full-time job at the office. I work in marketing on the client side and fortunately I don't have to follow any special or formal dress code on a daily basis. If this were the case, I would probably dress the way I do in today's blog post every day.
My office look
Funnily enough, I bought all fashion items of this outfit independently and combined them to this overall office outfit. Usually I style the single items a bit more casual – by combining blazers with jeans, or cloth pants with sneakers. For my everyday office life this is absolutely sufficient to feel well dressed and comfortable at the same time. Office hours can be long, so an outfit to feel comfortable in is pretty essential!
But even if I don't have to resort to slacks, blazers and pumps for work every day, it's always good to have such an outfit in your wardrobe (just in case, right?). After all, you never know when you might need a more formal outfit – because the next presentation, conference or trade fair is sure to come!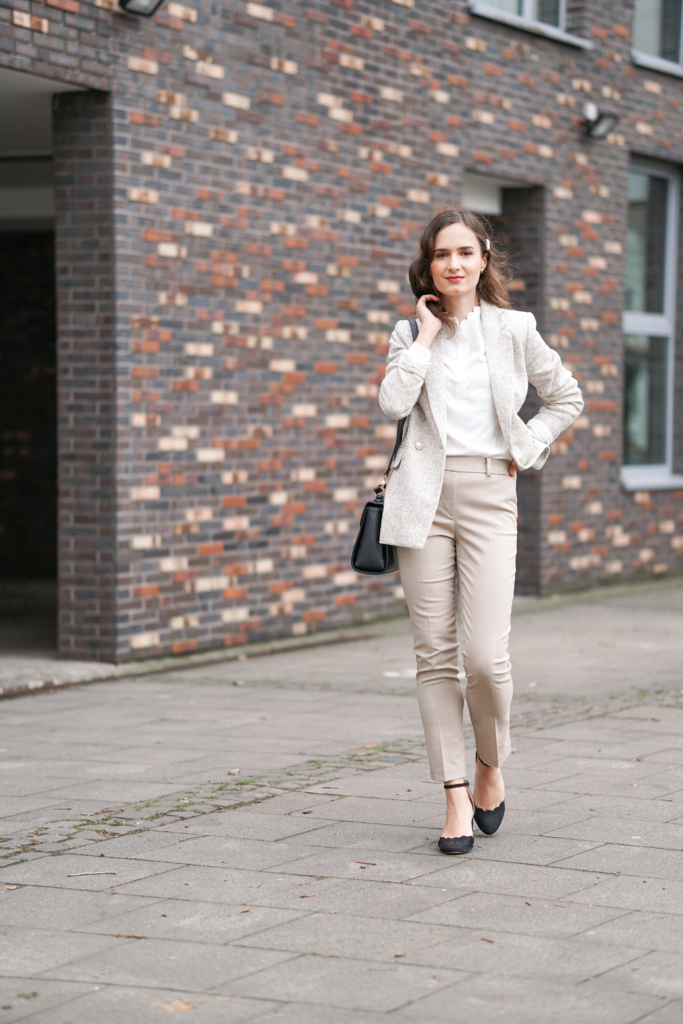 A monochrome office outfit with classic accessories
I shopped my entire outfit (except the shoes) at H&M. In my opinion, H&M in particular is a great source for finding fashionable pieces for work – especially if you rely on extra small sizes like me.
I am in love with the blazer with its classic cut and style – and those who know me are aware that I can never get enough of bouclé. It also goes pretty well with the beige slacks, which give the outfit an extra business touch. I have combined it with a classic white blouse – in my opinion a timeless fashion item you can never go wrong with. Because of its scallop-edge it also breaks up the otherwise rather severe look. Unfortunately it is currently sold out, but I've linked similar alternatives above.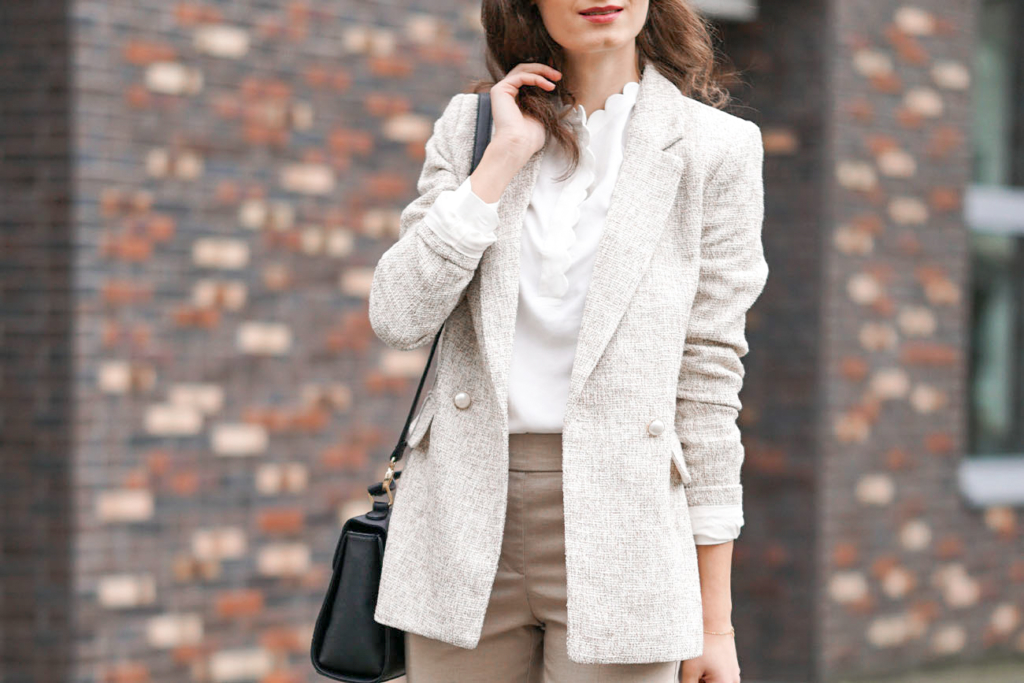 To add another dimension to the monochrome look, I've worn black scallop-edged pumps (I think you can tell I have a thing for that!) and a classic black cross-body bag. As for the accessories, I've stayed rather discreet but still feminine with delicate gold jewellery and a pearl hair clip.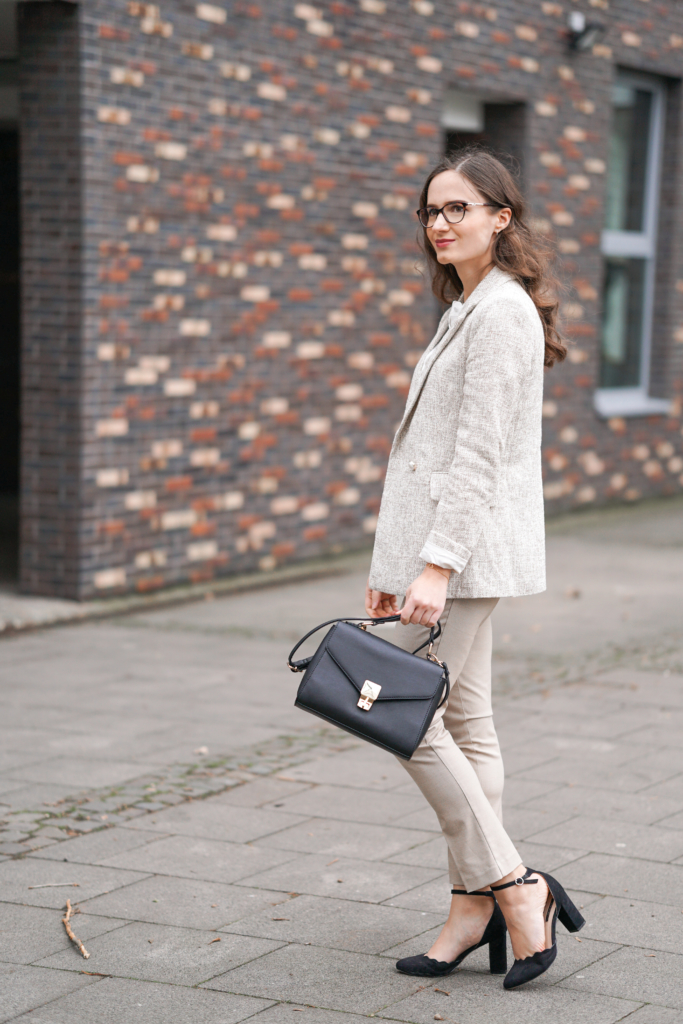 Of course my glasses should not be missing in an office outfit. While I hardly ever wear them in everyday life, they are a must for me when I spend several hours per day on the PC. However, I find them a necessary evil instead of a fashionable accessory. I wonder if that was the reason why I went to the optician only two years ago to finally get some glasses? 😉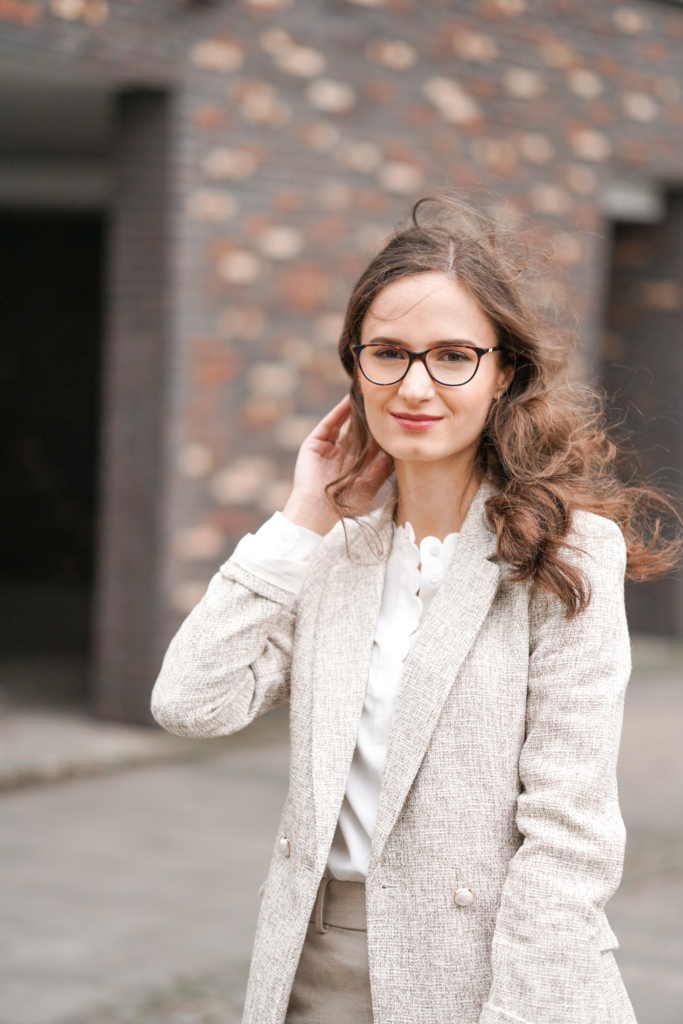 Is there a specific dress code you have to consider at work? How do your office looks usually look like? Let me know here or under my Instagram post!
With much love,
Teresa