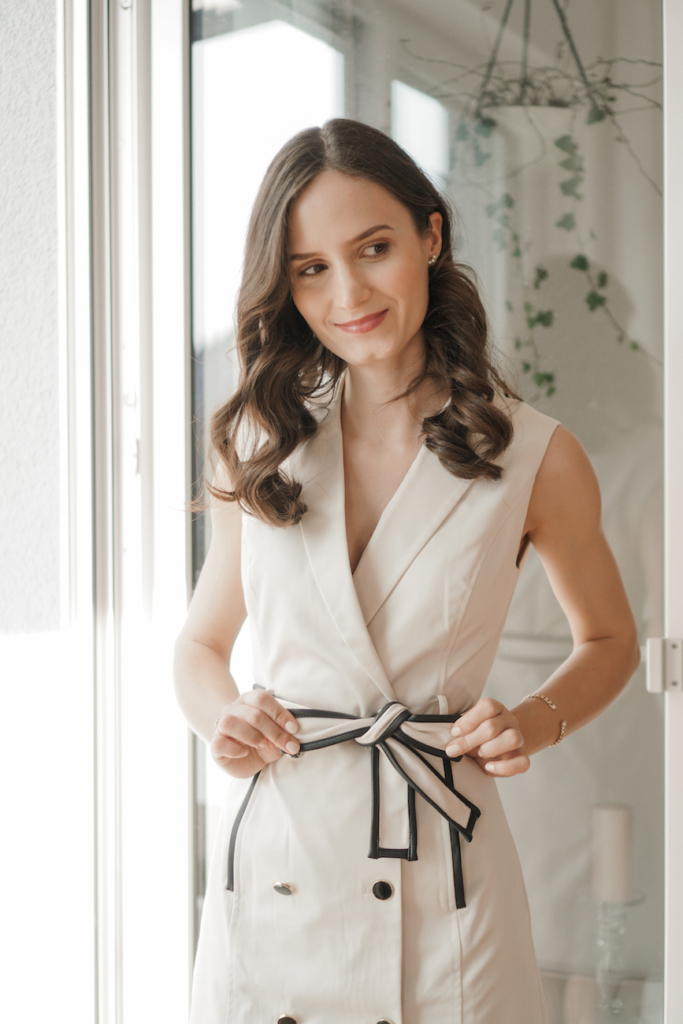 It's that time again: It's Glamour Shopping Week! What better way to pass the time at home in times of curfews and social distancing than with a little bit of online shopping? Amidst the Covid-19 pandemic we follow the motto: STAY SAFE. SHOP ONLINE.
Until April 12 2020 there are numerous discounts, gifts and benefits, which you can redeem at the participating partners and online shops. Therefore, I've summarized the best discount codes from my favorite online shops as well as some of my favorite fashion items. This sleeveless dress from Morgan (via Asos), for example, is definitely an item I'll keep! It is chic, elegant and even perfect for a summer day at the office. I can't wait to wear it as soon as things get more back to normal and the temperatures are rising again.
Happy shopping everyone!
With much love,
Teresa
ASOS
20% on non reduced items
Code: GLAM2020

---
MANGO
20% on the current spring and summer collection
Code: GLAM20

---
FASHIONETTE
20% on non reduced items
Code: GLAMOUR0420

---
H&M
15% on everything
Code: GLAMOUR

---
GÖRTZ
15% on everything (except certain brands)
Code: GLAM15

---
DOUGLAS
20% on non reduced items (minimum order value: 79 €)
Code: SPRING20

---
Further discount codes:
Fashion:
Levi's: 20% on lady's and men's trousers – Code: Levis20
Edited: 20% on everything – Code: GSW20FW
Calzedonia: 20% on non reduced items – Code: GLAMWEEK20
Comma: 15% on everything (minimum order value: 75 €) – Code: GLAM15
Apollo: 25% on sunglasses – Code: APOLLO-GLAM-2020
Mister Spex: 20% on glasses, sunglasses and contact lenses – Code: dmb194-15
Only: 20% on everything – Code: ONGLAM20
ONYGO: 20% on everything and 10% on reduced items (excl. Dr. Martens) – Code: ONYGLAM20
NA-KD: 25% on non reduced items – Code: glamourweek
Reserved: 20% on non reduced items (excl. ReDesign collection) – Code: Reglam20de
Babor: 15% on non reduced items – Code: LOVE15
bohoo: 40% on non reduced items (excl. special collections) – Code: boohoo40
Hunkemöller: 20% on everything – Code: HKM@GLAMOUR2020
Orsay: 30% on one item (excl. reduced items) – Code: 21270
Peek&Cloppenburg: 15% on everything (minimum order value: 99 €) – Code: GLAMOUR2020
ABOUT YOU: 15% on everything (minimum order value: 75 €) – Code: GLAM20
Home & Decoration:
Home24: 15% on non reduced items (minimum order value: 150 €) – Code: GLAMOUR20-A
Depot: 20 € on everything (excl. furniture, books, reduced items, minimum order value: 30 €) – Code: glamour-depot
Geliebtes Zuhause: 20% on non reduced items (excl. books and selected brands) – Code: GLAM20-GZH
Impressionen: 20% on everything – Code: GLAMOUR20
Junique: 20% on everything – Code: GLAM2020