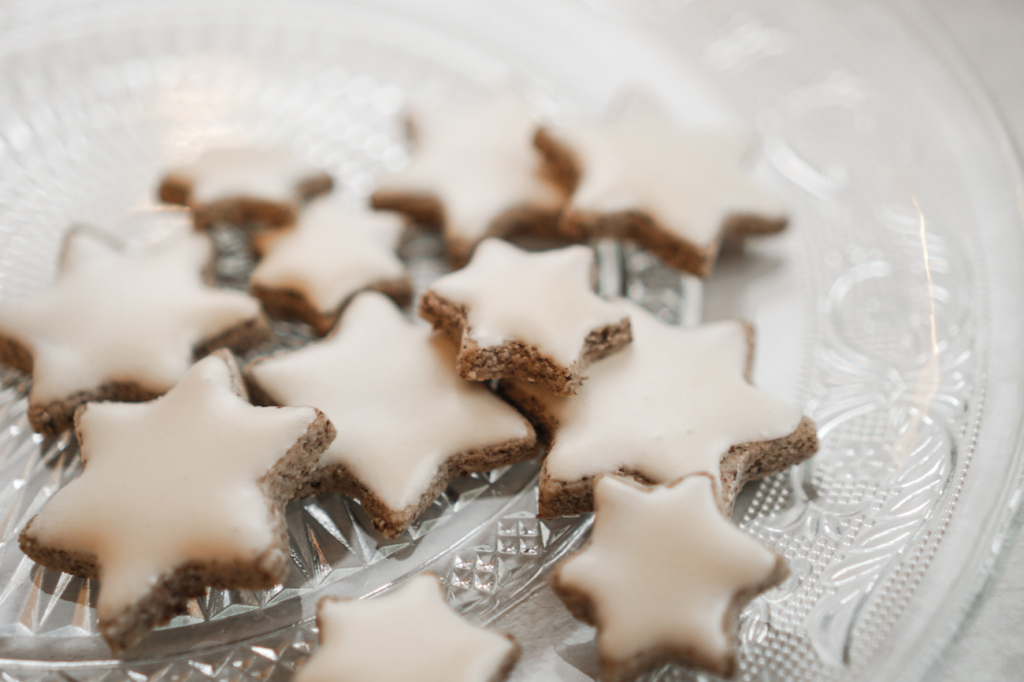 Hi there and welcome back! It's been a long time since I was last active on the blog – a far too long time if you ask me. But with Christmas around the corner, I want to share with you my all time favorite recipes for beautiful cinnamon stars and delicious vanilla crescents .
Both traditional German Christmas cookies are perfect for last minute baking and will get you in the ultimate Christmas mood. So put on some Christmas music (I recommend Michael Bublé to get you just in the right mood), roll up your sleeves and let's get started! (You can thank me later for the wonderful aroma of Christmas baking that fills your home!)
Cinnamon Stars (Zimtsterne)
I always hear that a lot can go wrong with these traditional German Christmas cookies. But with the following recipe you will get a perfect result – believe me! I use it every year and the cookies don't only turn out beautifully, but they also taste heavenly.
INGREDIENTS YOU WILL NEED:
3 egg whites (medium sized)
200 g icing sugar
400 g ground almonds
1 tablespoon of cinnamon
1 tablespoon of freshly squeezed lemon juice

IN ADDITION:
Baking paper
Star shaped cookie cutter
STEP 1: Beat two egg whites with a hand mixer until stiff. Drop tablespoons of 100 g icing sugar and continue beating until the mixture is very fluffy and has a glossy shine.
STEP 2: Mix the almonds with the cinnamon and fold it into the mixture, using a dough scraper. The dough should now be moist and slightly sticky.
STEP 3: Roll out the dough to a thickness of 1 cm. Use a cookie cutter to cut out stars by dipping the cutter in icing sugar each time. In this way the dough will not stick to it. Place the stars on a baking tray lined with baking paper.
STEP 4: Preheat the oven to 150 °C.
STEP 5: Beat the third egg white until it's completely stiff. Add the remaining icing sugar and lemon juice and continue beating until the meringue is spreadable. Brush the meringue thickly onto the stars.
STEP 6: Bake the cinnamon stars in the lower section of the oven for about 15 minutes. The meringue coating should remain white and the almond dough should still feel moist. Let the cinnamon stars cool on a wire rack. Afterwards, store it in a tin box without other cookies.
Vanilla crescents (Vanillekipferl)
Vanillekipferl are another traditional German Christmas Cookies made with ground almonds and powdered with vanilla and icing sugar. I love them because they are nutty, tender and literally melt in your mouth.
INGREDIENTS YOU WILL NEED:
200 g flour
1 knife point of baking powder
100 g sugar
8 g vanilla sugar
1 egg (medium sized)
125 g soft butter
100 g ground almonds
50 g icing sugar and 8 g vanilla sugar (to sprinkle the cookies)

IN ADDITION:
Baking paper
STEP 1: Cover the baking tray with baking paper and preheat the oven to 180°C.
STEP 2: Mix the flour with the baking powder. Add the remaining ingredients and mix it using a dough hook, first at the lowest, then at the highest level. Then knead the dough on a lightly floured work surface until it's smooth.
STEP 3: Form pencil-thick rolls, cut them into 4-5 cm long pieces, roll out the ends a little thinner and place them on the baking tray shaped into croissants.
STEP 4: Bake the cookies in the oven in the middle section of the oven for about 10 minutes.
STEP 5: Sieve the icing sugar and mix it with the vanilla sugar. Sprinkle the Vanillekipferl a little bit right after baking. Let them cool and then sprinkle them again with the mixture of icing and vanilla sugar.
Enjoy!
What are your favorite Christmas cookies and recipes? I would love to know!
With much love,
Teresa