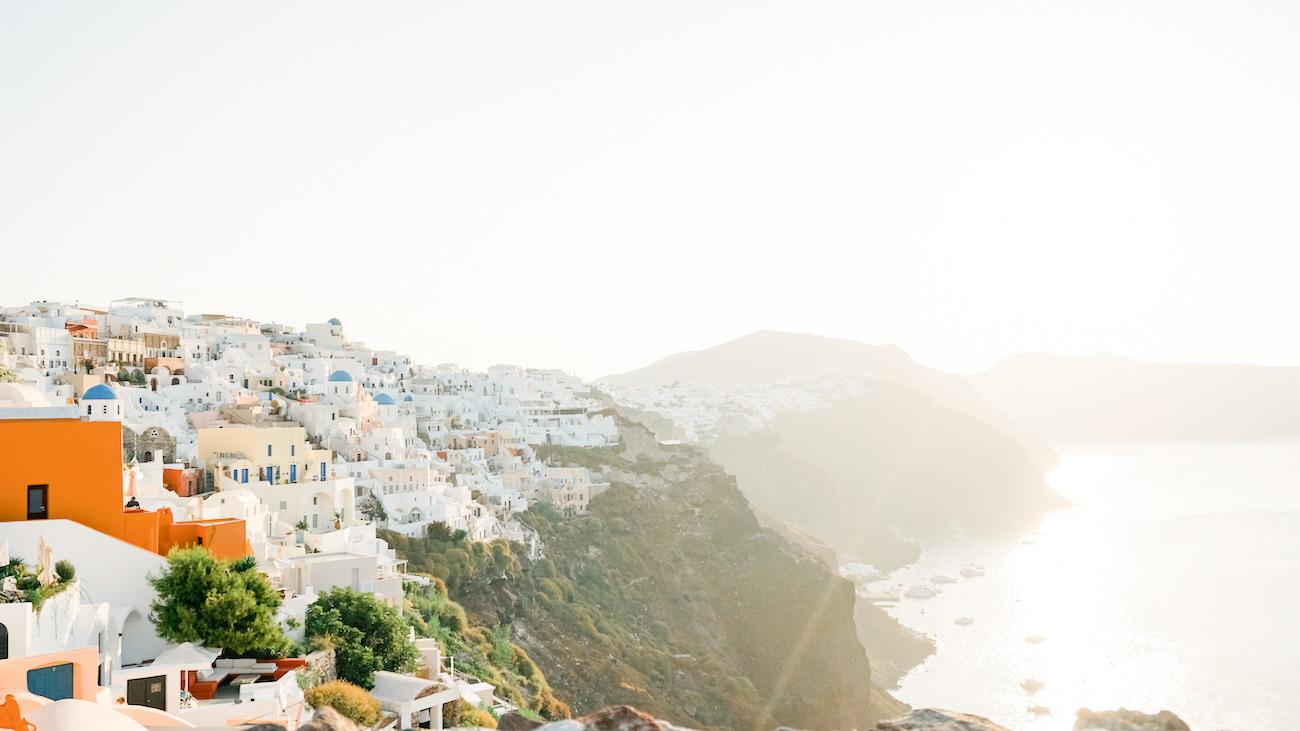 Santorini was on my travel bucket list for years. It's one of the most famous Greek islands and there are good reasons for that: Whitewashed stone buildings located at the cliff-side, blue-domed churches and stunning views of the sea instantly pop up in our minds when we think of this gem of an island in the Aegean Sea.
Seeing all of these with my own eyes was honestly an incredible experience and yes – Santorini is even more beautiful than the pictures you see all over Instagram and Pinterest. Although in parts it can get touristy, it's really one of the most unique and magical places I've ever been to. In my opinion a must-see destination for everyone!
This is why I share with you everything you need to know before visiting Santorini as well as my recommendations on where to stay, where to eat and what to do on the beautiful Greek island.
Key Facts
When to visit
Due to Covid-19 everything was different this year – especially, when it comes to travel. I don't want to encourage you to travel abroad while being in a pandemic, but I can tell you that we felt pretty safe throughout our whole trip.
We visited the Island at the end of September and still had beautiful weather, although in the evenings it can get a little bit chilly due to its windy character. Also prepare for one or another cloudy day (which we were actually grateful for, as the sun is still pretty strong at the end of the month).
What we appreciated a lot was the absence of huge tourist crowds flooding the island from cruise liners. Only on two days we got a glimpse on how busy and crowded Oia must usually get, even in September. I highly recommend avoiding the peak summer months from June till mid September and instead enjoy the beauty of the island in the more quieter months during low season (end of September till May).
Where to stay
We stayed the whole time in Oia – maybe the most famous town in the north of the island, overlooking the caldera. It is the town you have most likely seen in photos and is known for it's beautiful blue-domed churches. And let me tell you, Oia is really insanely beautiful!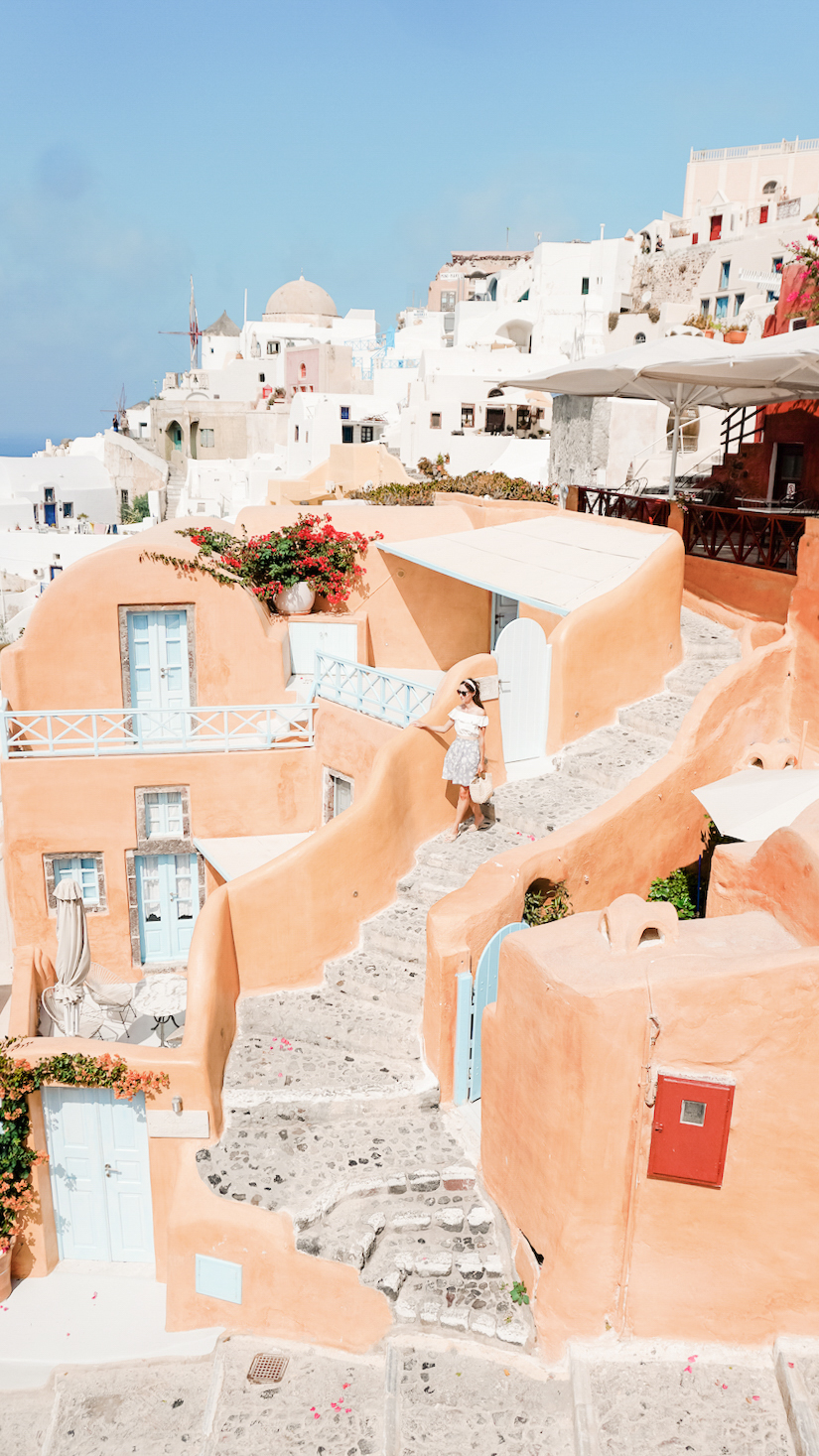 All over the town along the cliffs you can find private villas with plunge pools and hot tubs, hotels and suites. Demand for the caldera view is high and space is at a premium, so the prices to stay at such a luxurious accommodation can get insanely high.
We stayed at the east end of Oia at Thirea Suites with a 5 minute walk to the center of the town. We couldn't have made a better choice as the price for our cave suite with a private balcony and jacuzzi, a really spacious room and a spectacular view right to the sea was pretty fair.
Breakfast was served right on the balcony and was super delicious every single day. I also appreciated the privacy we had, as the suites are located down the cliffs. So there were no tourists walking by and taking pictures (what's likely for central Oia). Thirea Suites surpassed all our expectations and I highly recommend a stay there!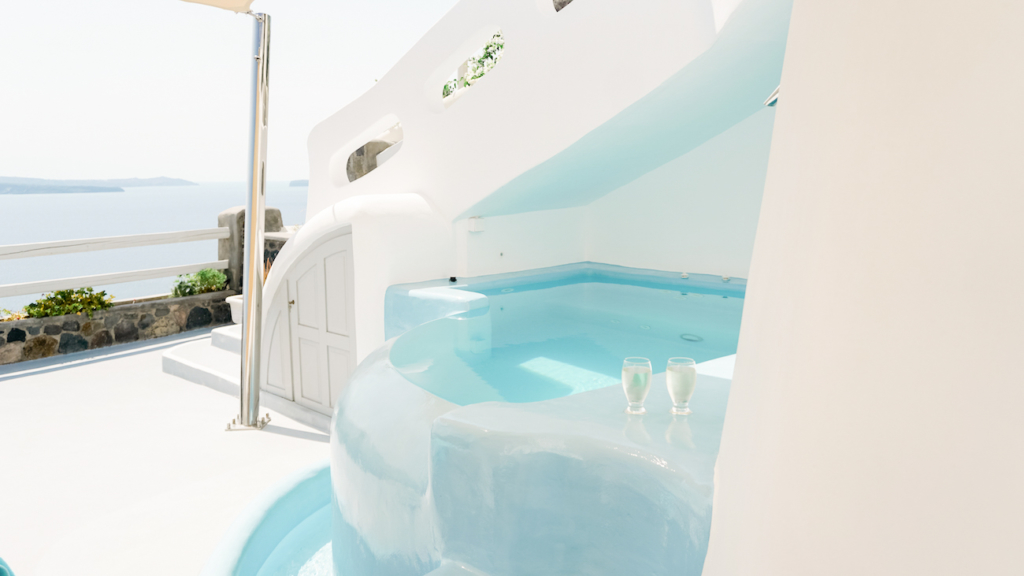 How to get around
Santorini is a fairly small island. As a reference, we needed around 45 minutes to drive from Oia in the very north to Akrotiri at the other end of the island. Although a lot of people rent ATVs to get around, I recommend getting a small rental car – especially if you are there for a longer period of time and you have a lot of luggage (like we did). Just be prepared that parking spaces (especially in Oia) can be rare.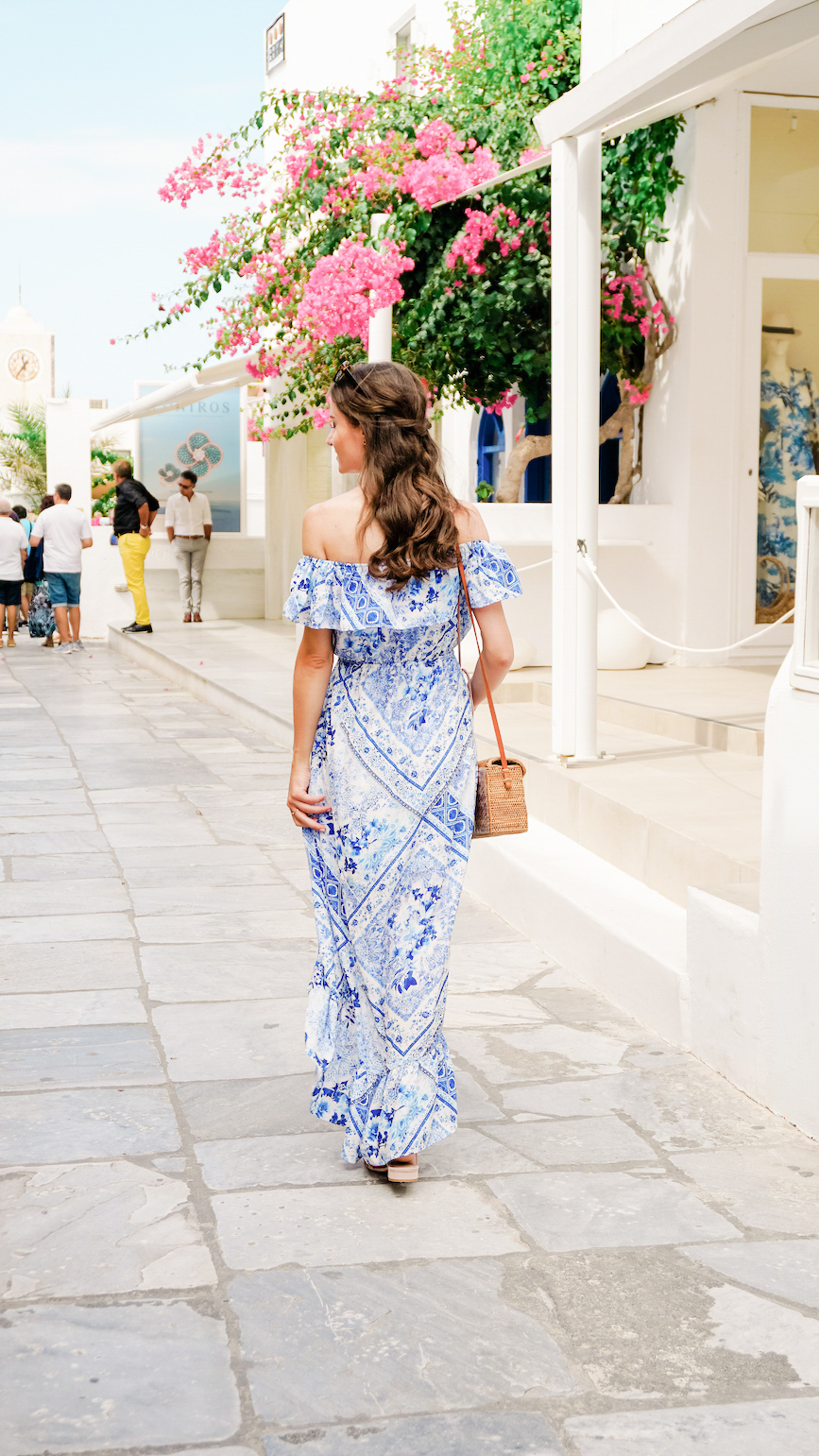 If you don't want to drive yourself, there are also several bus lines that link the island. Of course, you can also take one of the only about 30 taxis on the island, although this is a rather expensive way to get around. We took a taxi once from Oia to Fira as we were taking a hiking trail (and didn't want to hike all the way back again) and paid around 20 €.
Where to eat
On Santorini you can find everything the Greek cuisine has to offer. In every restaurant we visited during our stay, you could find vegetarian (and in most cases also vegan) alternatives. We ate at many different restaurants during our trip and our recommendations are the following:
Galini (Firostefani): The perfect cafe for breakfast or an afternoon treat! If you are lucky as we were, you are seated in the front row, where you can enjoy an incredible view!
Skala (Oia): We loved this restaurant so much, we visited it twice! The starters, salads and pasta were incredibly delicious – or why not try the catch of the day?
Mousiko Kouti (Megalochori): A super romantic place in the evenings. They also have a terrace, which was unfortunately closed when we visited the restaurant.
Aegean (Imerovigli): The perfect place for sunset watching while enjoying traditional Greek dishes.
Roka (Oia): The sea bass was a culinary delight – highly recommend this authentic restaurant which you can find in a small path at the back lanes of Oia.
Strogili (Oia): Perfect for watching the sunset on the high terrace with view on the three blue domes of the town.
Lolita's Gelato (Oia): The best homemade ice cream in town for a reasonable price. Perfect for every sweet tooth like me!
Best things to do in Santorini
Getting enchanted by Oia's picturesque landscape
As already mentioned, Oia completely stole my heart! This picturesque town with its whitewashed houses, typical cycladic alleyways and its marbled promenade has so many wonderful and romantic spots that only wait to be discovered. Beforehand, I researched the locations of the most famous photo spots, but besides that, let me give you one tip: Wander around and explore Oia by yourself. You will be surprised about how many picture-worthy spots you will find that aren't around all over the internet yet.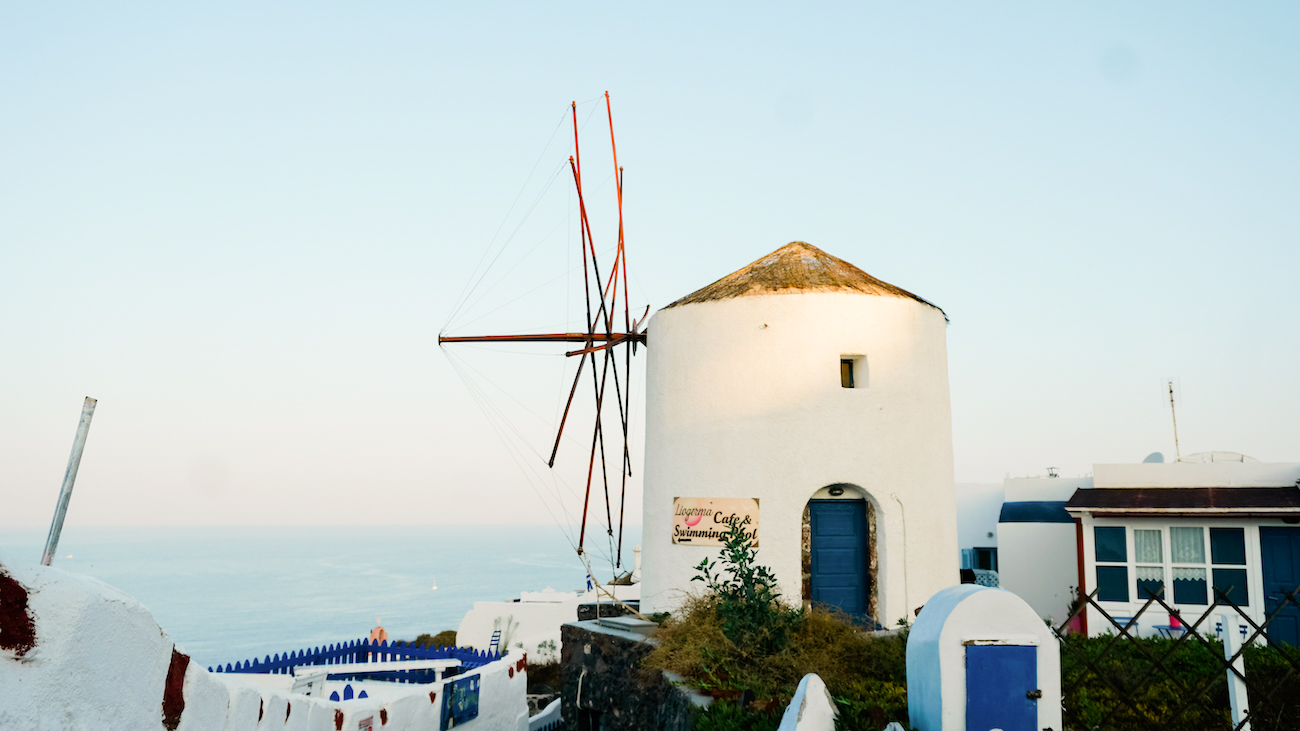 Strolling through the little villages
Although we stayed in Oia and as a result spent a lot of time there, I highly recommend to discover other, less known towns and little villages around Santorini. There are so many things to explore, hidden alleys to discover and beautiful sceneries to be enjoyed. Fira, the capital of Santorini, is similarly lively as Oia while Imerovigli and Firostefani are way more calmer and relaxed.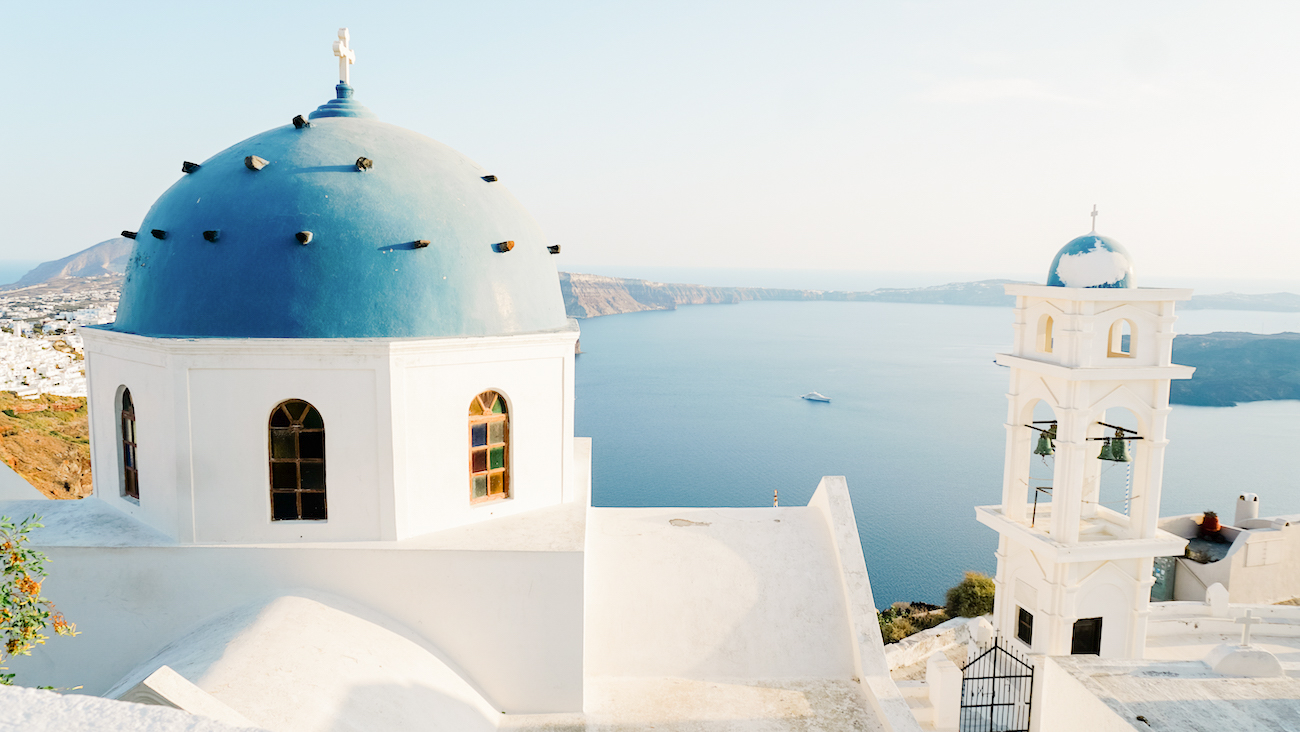 Or why not make a trip to Megalochori, an idyllic little village in the southwest of the island? There you can hardly find any other tourists but experience the authentic Santorini with white bell towers and an idyllic village square that invites you to stroll around.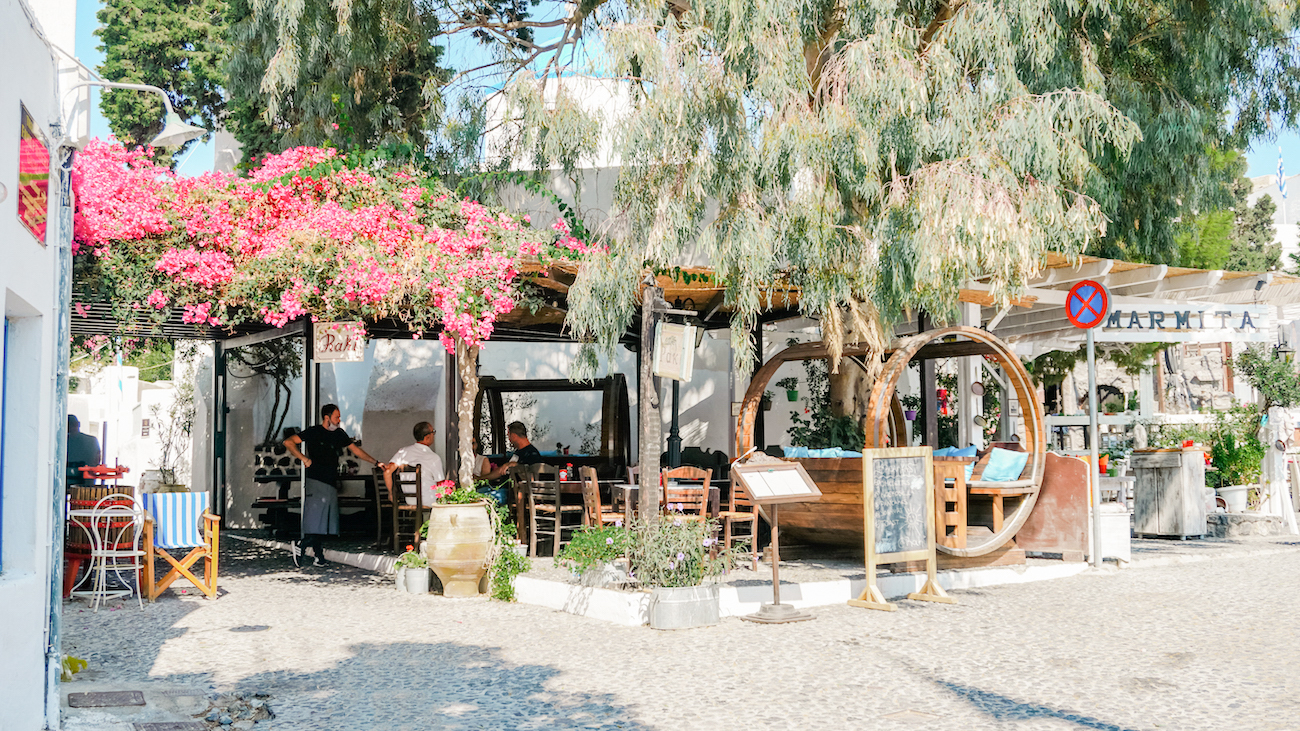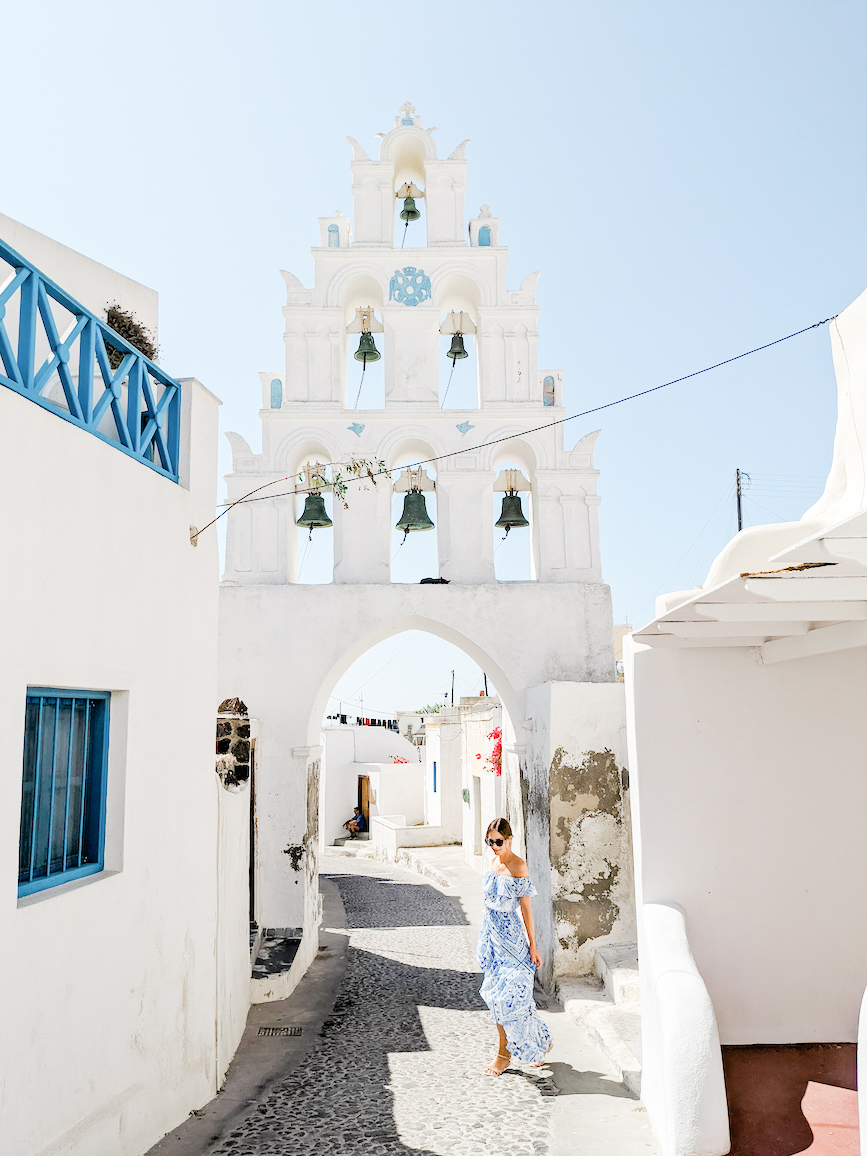 Watching the sunset and sunrise
Santorini is well known for having the most epic sunsets in the world. Hundreds of people stream to Oia every single day in order to see it for themselves. And what can I say? It's absolutely true! If you want to escape the crowds though, I recommend watching the sunset in Imerovigli. There, the sunset is at least as beautiful, minus the crowds.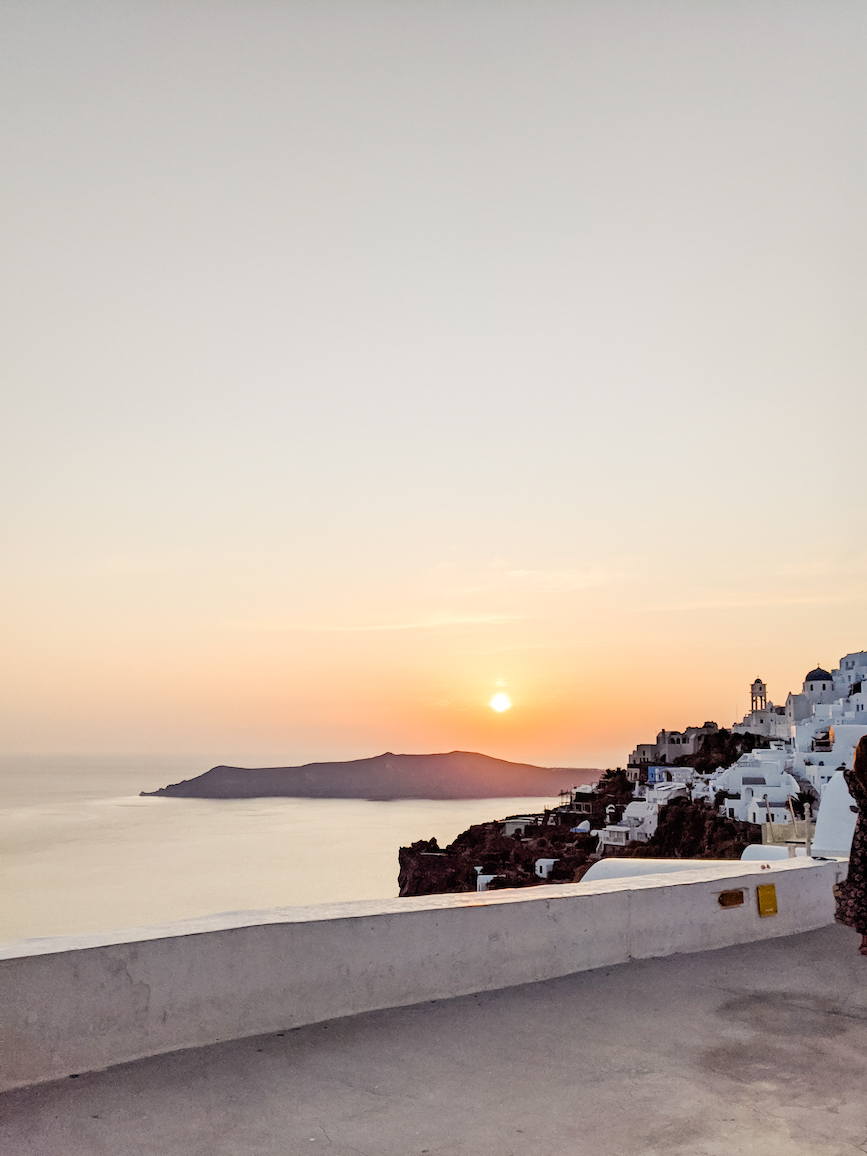 Bonus tip: I know that everybody longs to see the famous sunset, but what I liked even more (and that's hardly possible) was the sunrise in Oia. For me personally, it was a spectacle seeing the sun rising behind the hills. The light is just incredible and at this time of the day, you have the town almost for yourself.
Swimming at the most unique beaches
The volcanic island isn't known for its beaches, but nevertheless I recommend to give them a try! Due to their volcanic origin, most of the beaches are dark colored and consist of volcanic sand and pebbles while the water is usually crystal clear.
During our stay, we visited Vlychada Beach with its bizarre rock formations – which are definitely worth a visit! I was completely astonished by the scenery as I've never seen anything similar in my life before! Another plus is that the beach is merely visited by other tourists, so you can enjoy some time on your own!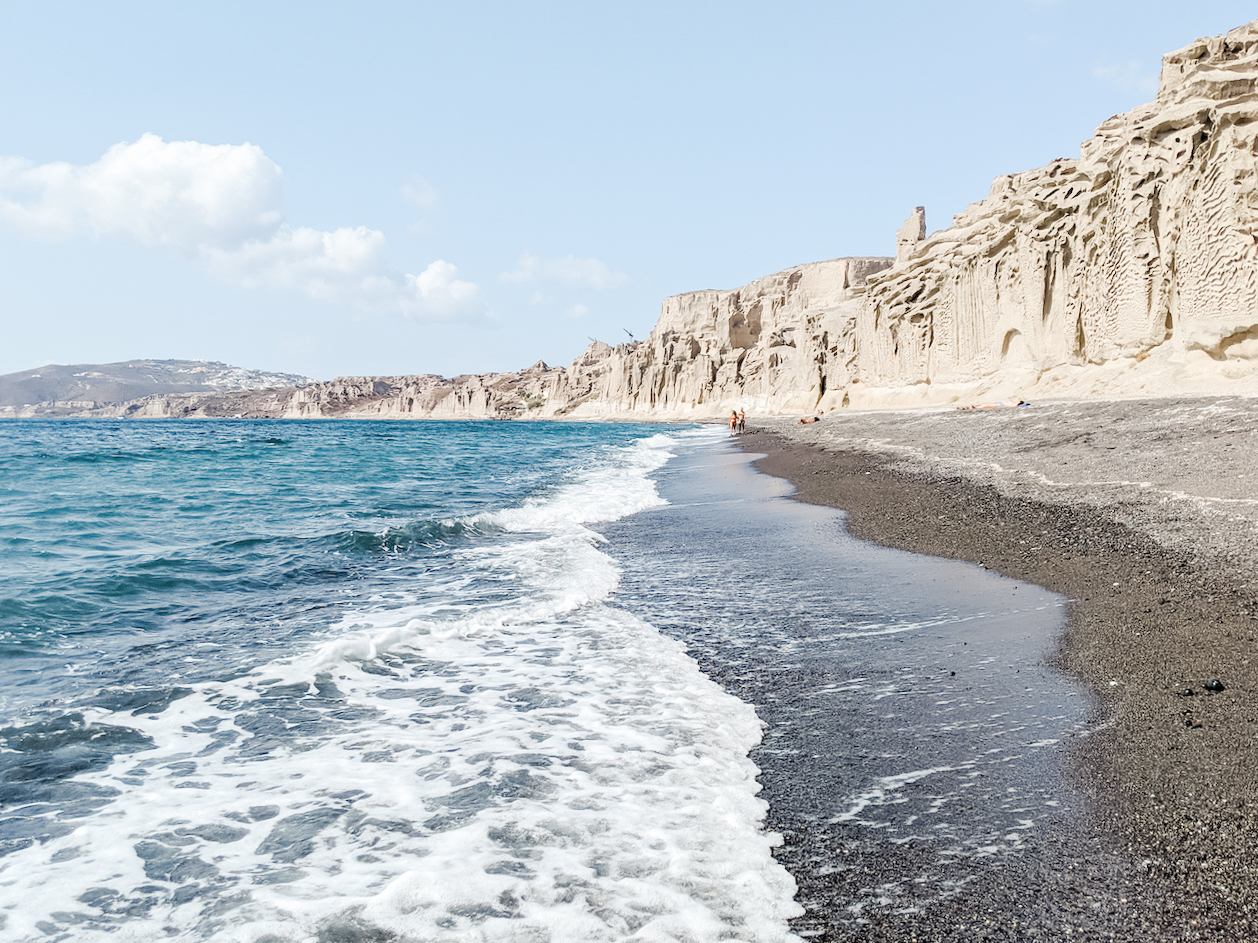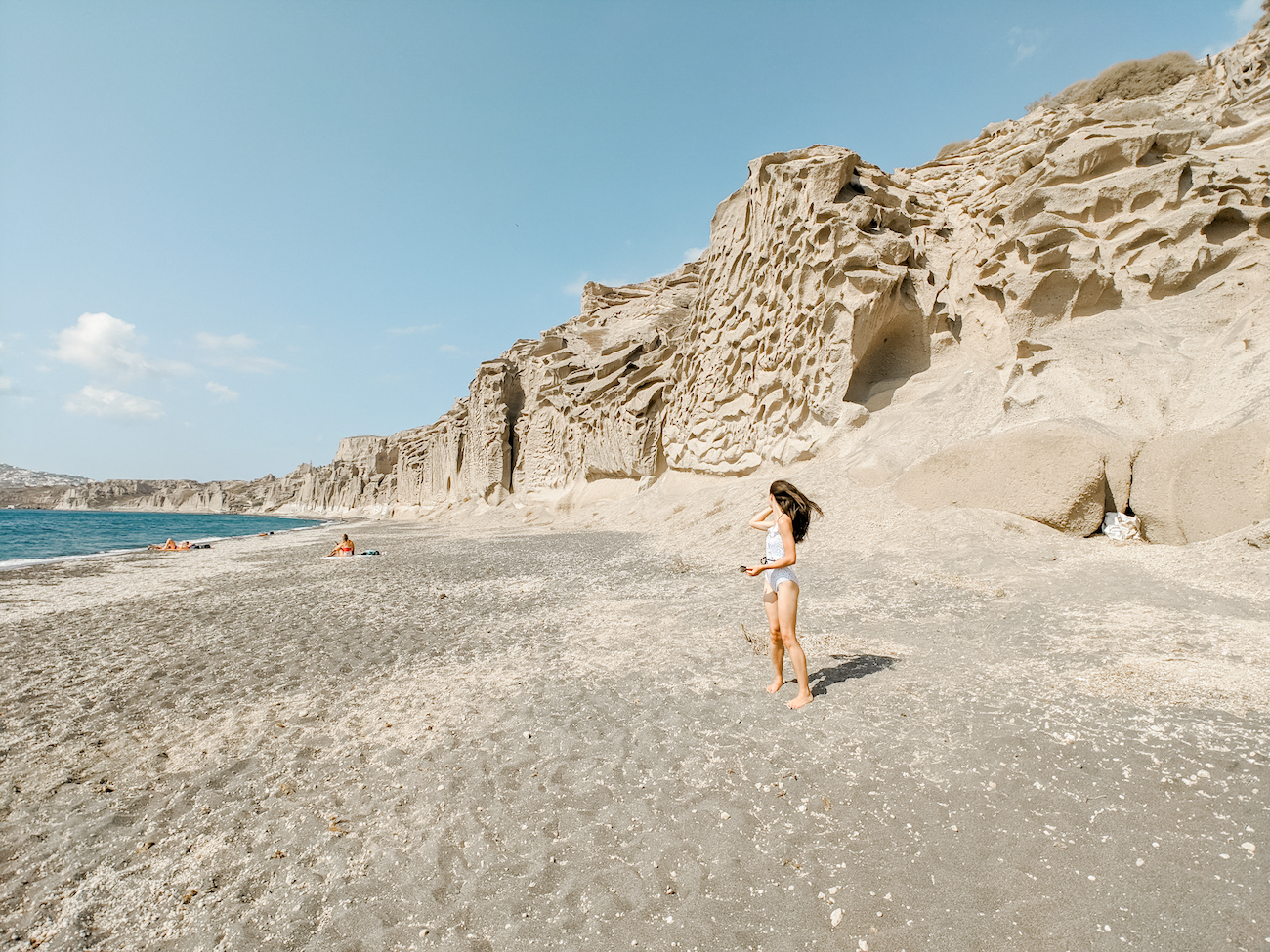 While there are many other beaches (like the Red, White and Black Beach), we decided to pay a visit to Perissa Beach – with its sunbeds and -shades the perfect place to unwind and relax. If you order a drink at the bar on-site, you receive the amenities for free. Just be careful when you go into the water: The shore is extremely slippery here!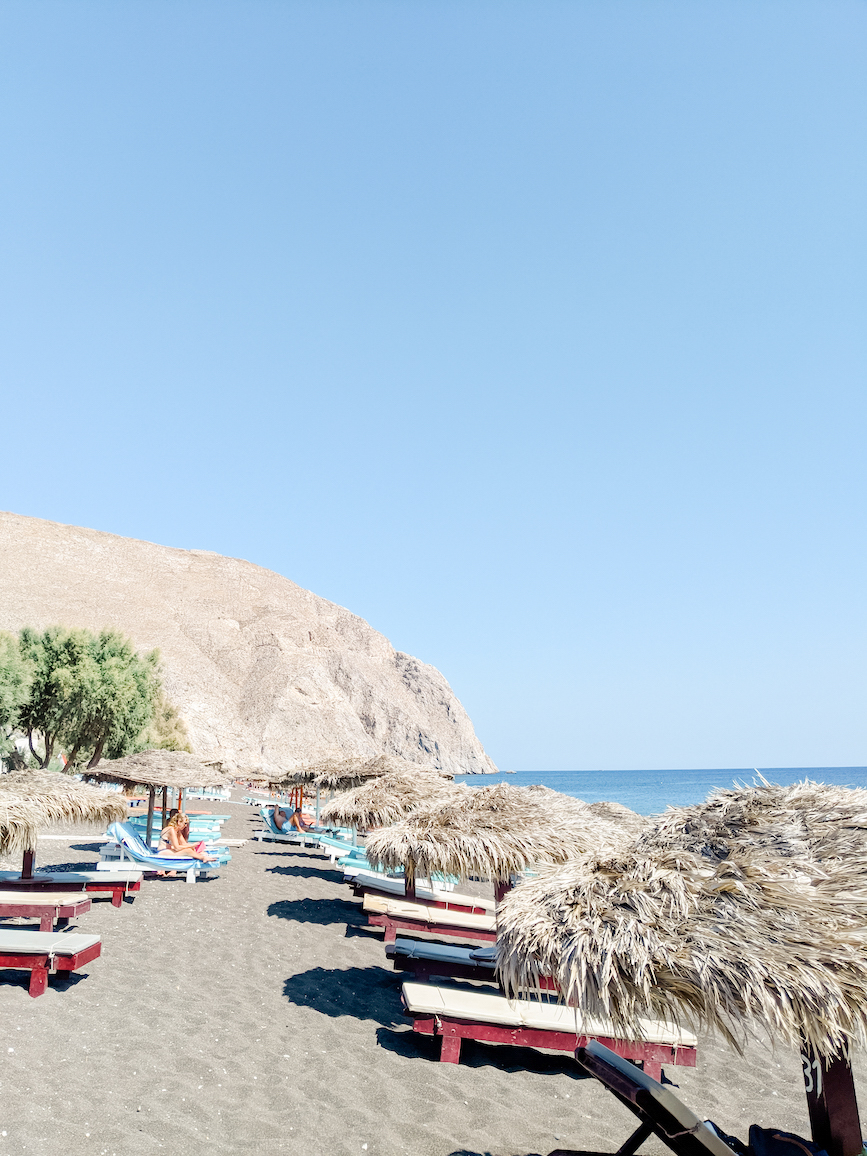 Hiking from Fira to Oia
On a rather cloudy day, we decided to take the hiking trail from Fira to Oia – a distance of approx. 10 – 14 km (depending on whether you make a detour to Skaros rock or not). In my opinion, it was one of our most memorable experiences during our trip. I mean, when else do you have the opportunity to walk along the rim of a volcanic caldera?
The views are simply incredible and the sweat during the 4 hour hike is totally worth it! A further plus: You come along the towns of Fira, Imerovigli, Firostefani and Oia, so you can get the perfect overview of large parts of the caldera.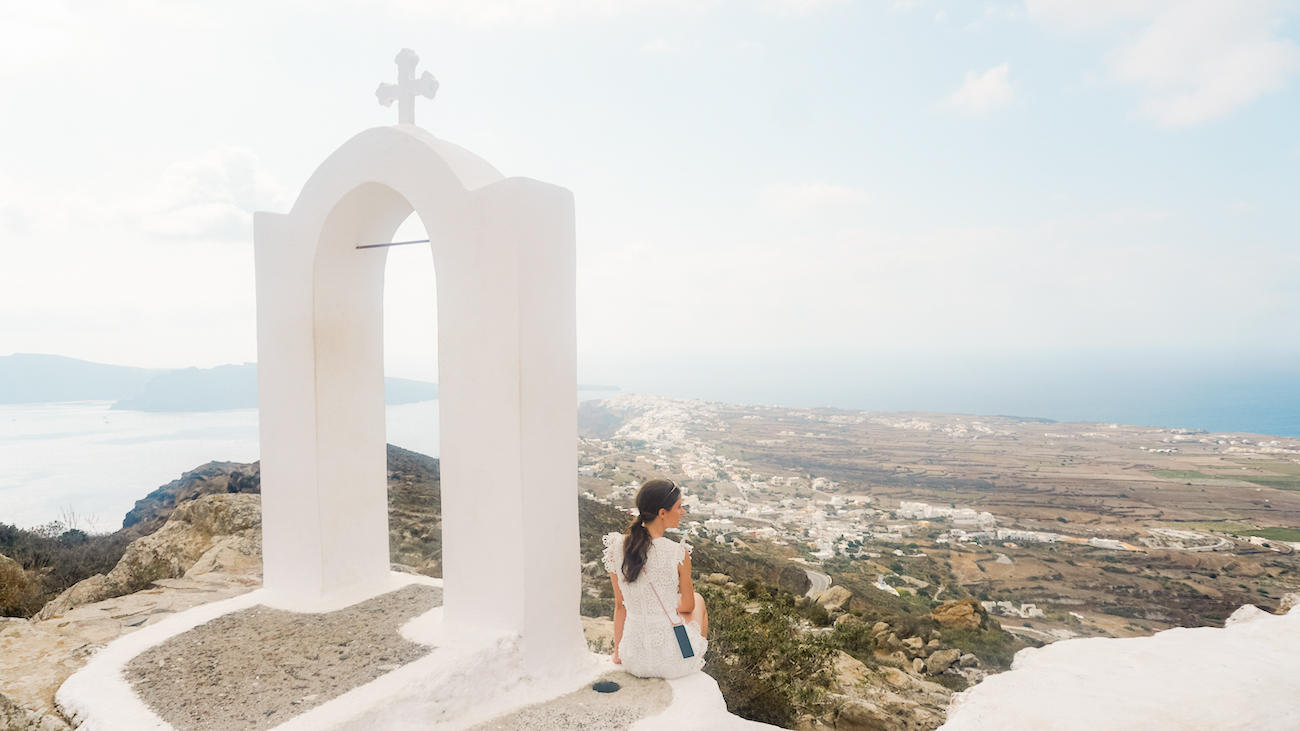 The walking path is a mix of paved, pedestrian streets and dirty hiking trails. Keep in mind that it's a hilly walk with almost no shade, so start either early in the day or make use of a rather cloudy day for the best experience. It's definitely one of the most scenic and unique hikes we've ever made and I would highly recommend adding it to your Santorini bucket list as well!
Climbing Skaros Rock
Skaros Rock is an outcropping rock located near the town Imerovigli. It's a little bit of an adventure to walk and climb the red rock. Especially at the very end you actually have to climb the rock, which was a little bit too dangerous for us. Instead, we followed another path around the rock and discovered the abandoned church Theoskepasti further below – a truly place of silence, where you can stay a little longer before making your way back to Imerovigli.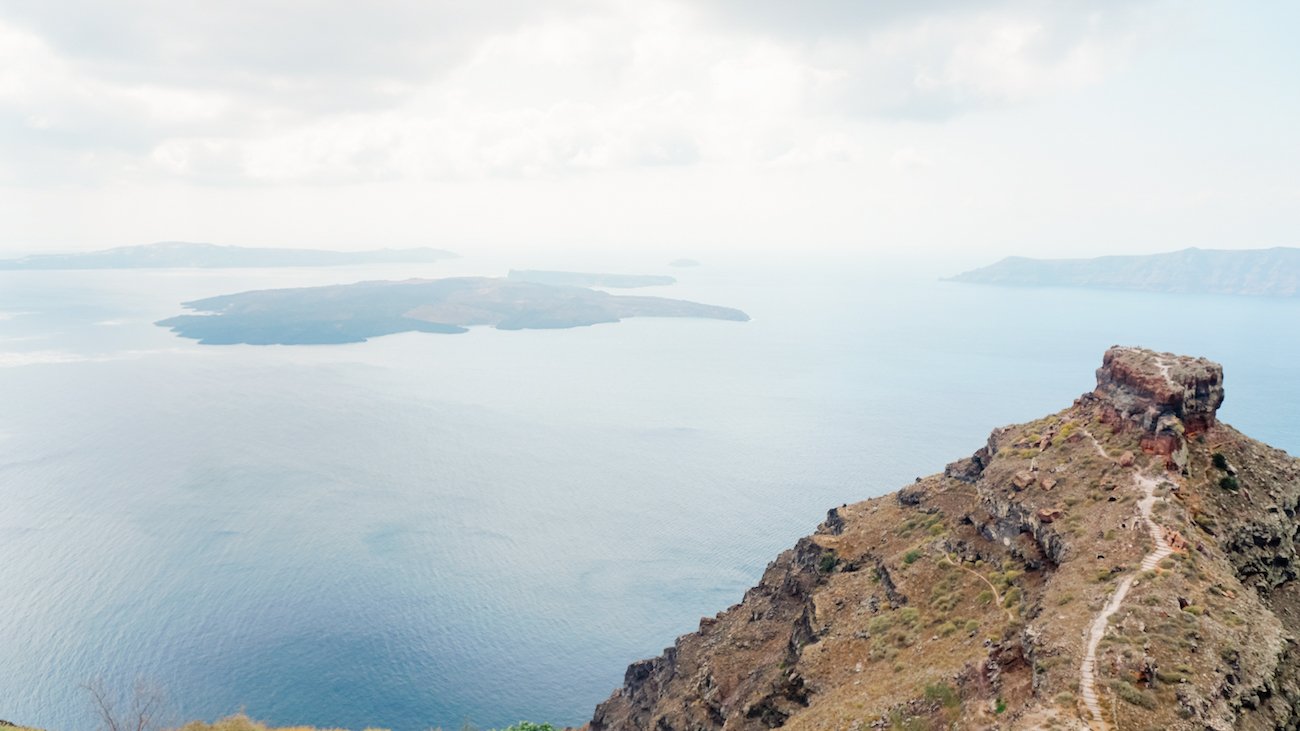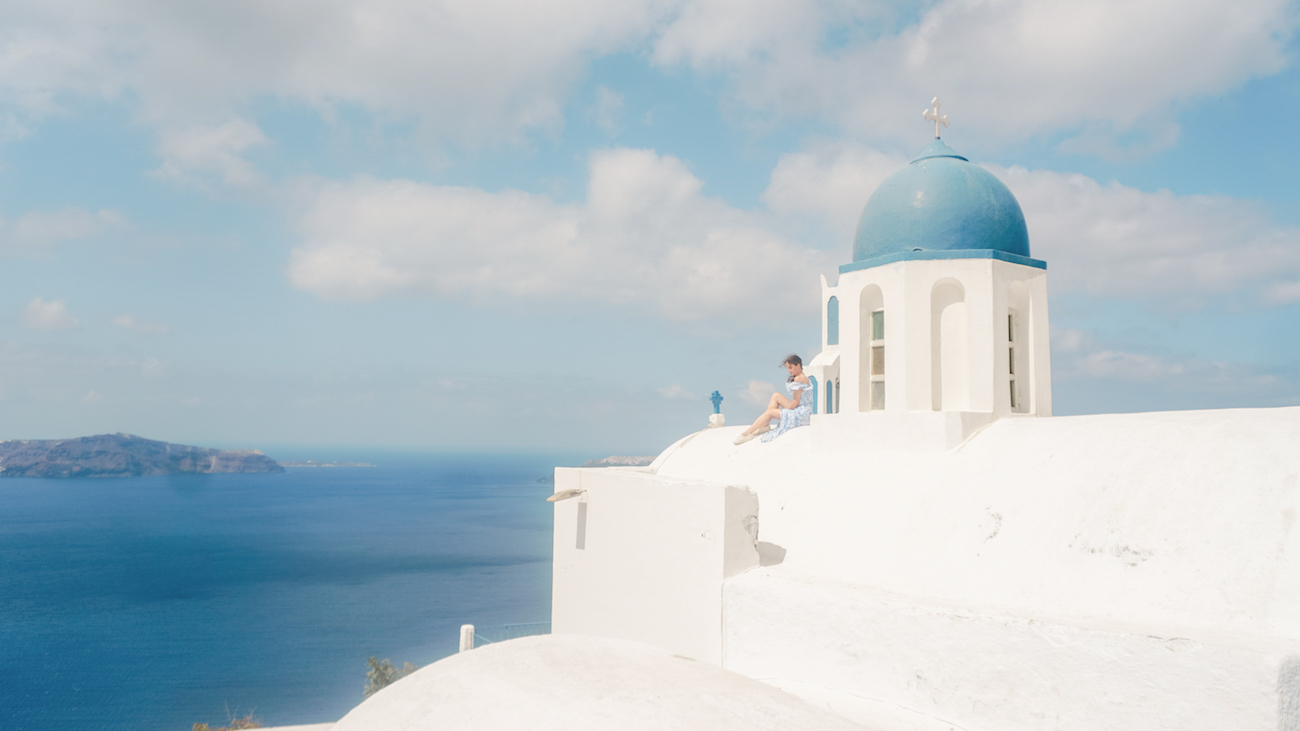 Enjoying the view from the Akritori Lighthouse
Make sure to visit the most south western tip of the island (Akritori) and one of the most beautiful lighthouses of the Cycladic islands, Faros. In front on the cliffs, you can enjoy spectacular views and I'm sure it's also perfect for watching another beautiful sunset on Santorini! If you're brave enough, take a picture at the cliffs, but please be careful as it's not secured in any way.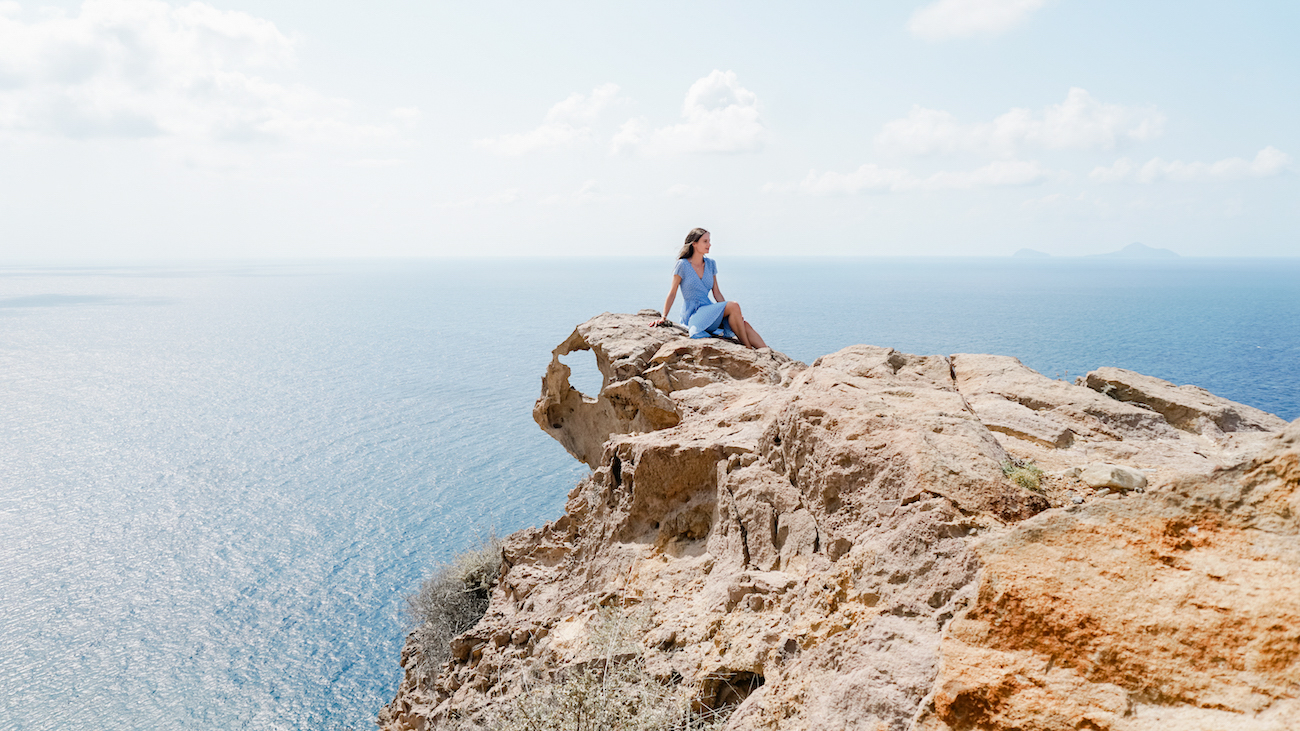 Hands Down: Is Santorini Worth The Hype?
Honestly, we had the most beautiful time on Santorini and I wish to come back some day in order to explore other parts of the island as well. Santorini was everything I wished it to be and in real life it's even more beautiful than the pictures, which is saying a lot. There's a good reason it's at the top of everyone's bucket list and I can only encourage you to see it for yourself some day!
The island has so much more to offer than could be described in this post. Did you know, for example, that Santorini is also well known for it's wineries, ancient excavations and hot springs, to only name a few? There is something for everybody and if you choose the right travel period, chances are high to share even the most beautiful spots with only few tourists. Santorini is definitely hyped, but worth the visit to be explored on your very own. Let yourself be enchanted by the beauty and charm of the volcanic island!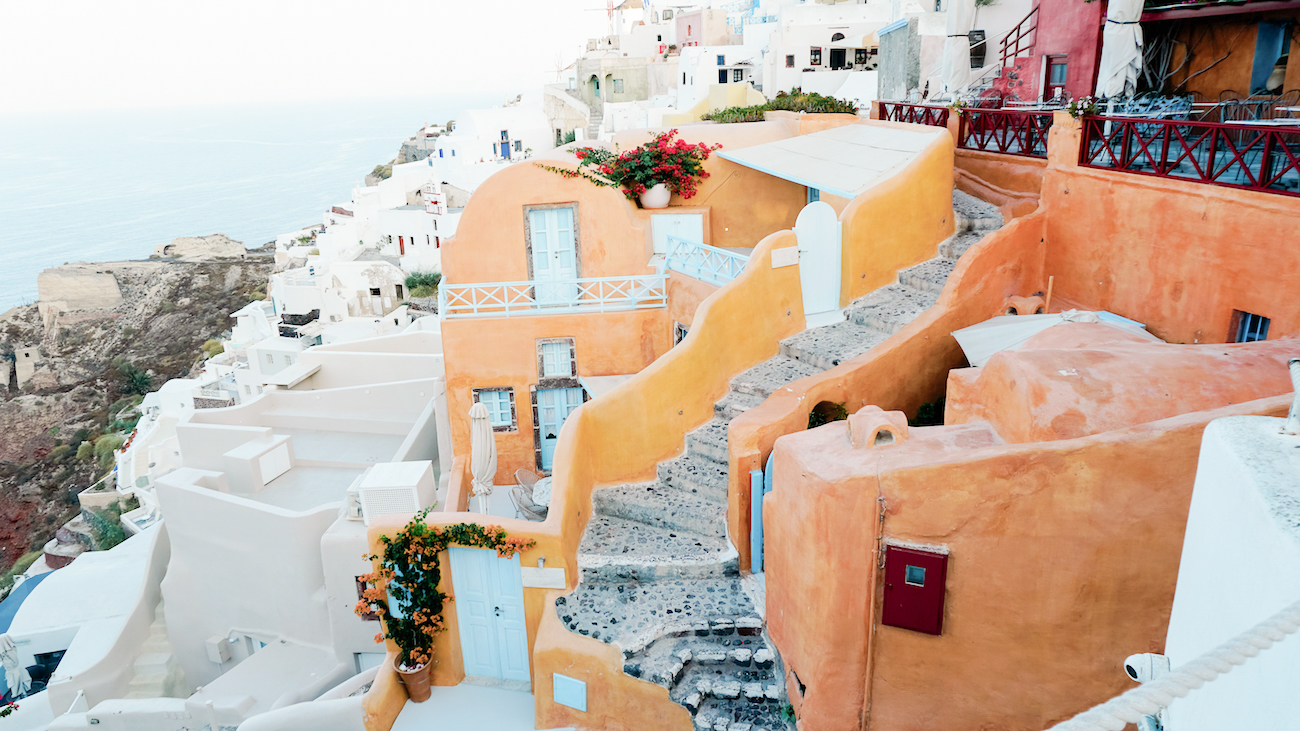 With much love,
Teresa