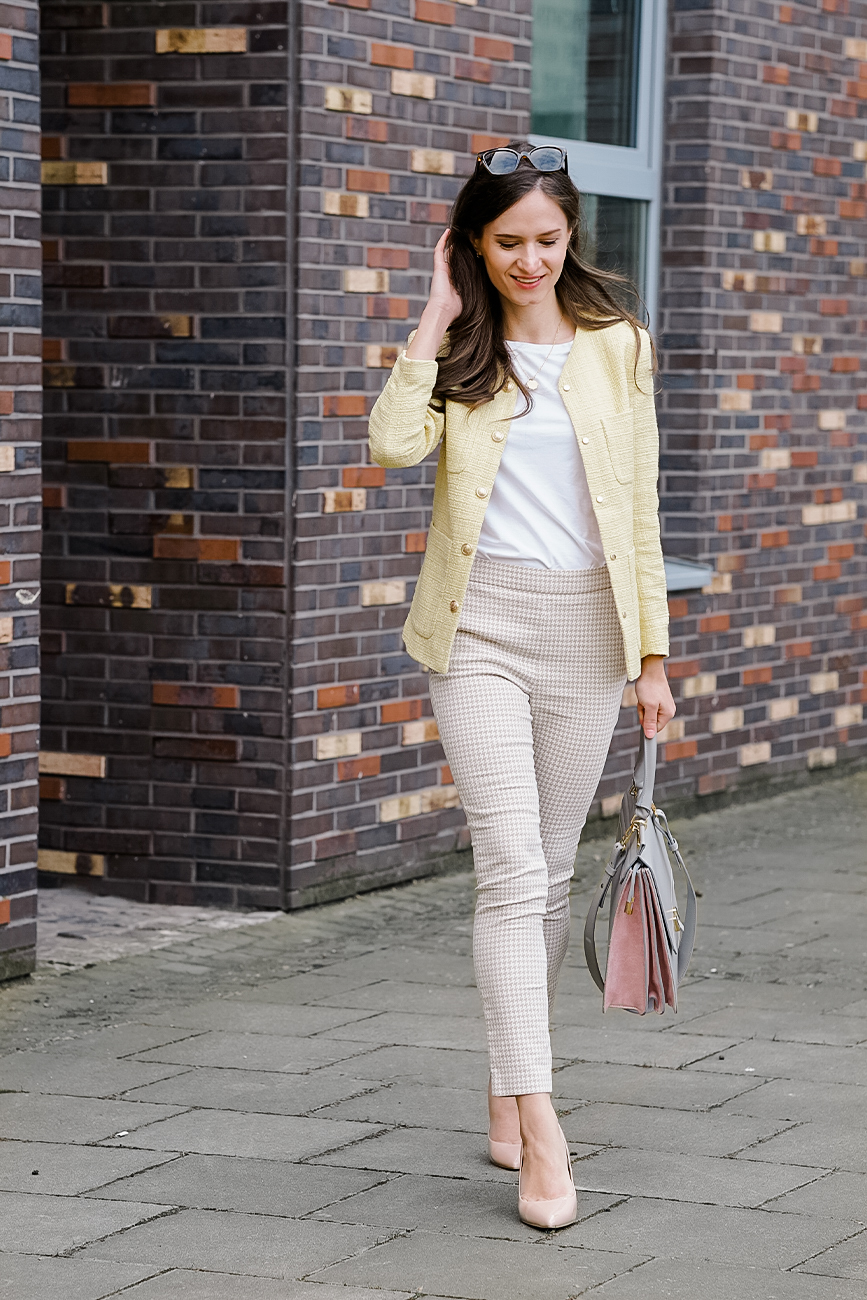 Shop the look:

After what might have been the longest winter of our lives, spring is finally around the corner. Warmer days are already (kind of) upon us, and I'm getting ready to store away my warm winter coats until next year. With the temperatures rising high during the last weeks, I got addicted to an old love again – the classic bouclé blazer.
After a full year of exclusively working from home, with nowhere to really go, it is finally time to revive the love story between my favorite fabric and piece of clothing – even if it might be just for grocery shopping, a walk around the neighbourhood or one of the rare days at the office.
Classic garment with a touch of spring
You know me, I love wardrobe classics you can wear year after year. A chic blazer is definitely one of those fashion items that never (never!) go out of style and that is the perfect outer layer to also top off your outfit this season. A stylish blazer instantly elevates your whole look: You can easily slip it over a tee and jeans to look all pulled together – even if it's just for your afternoon Zoom call.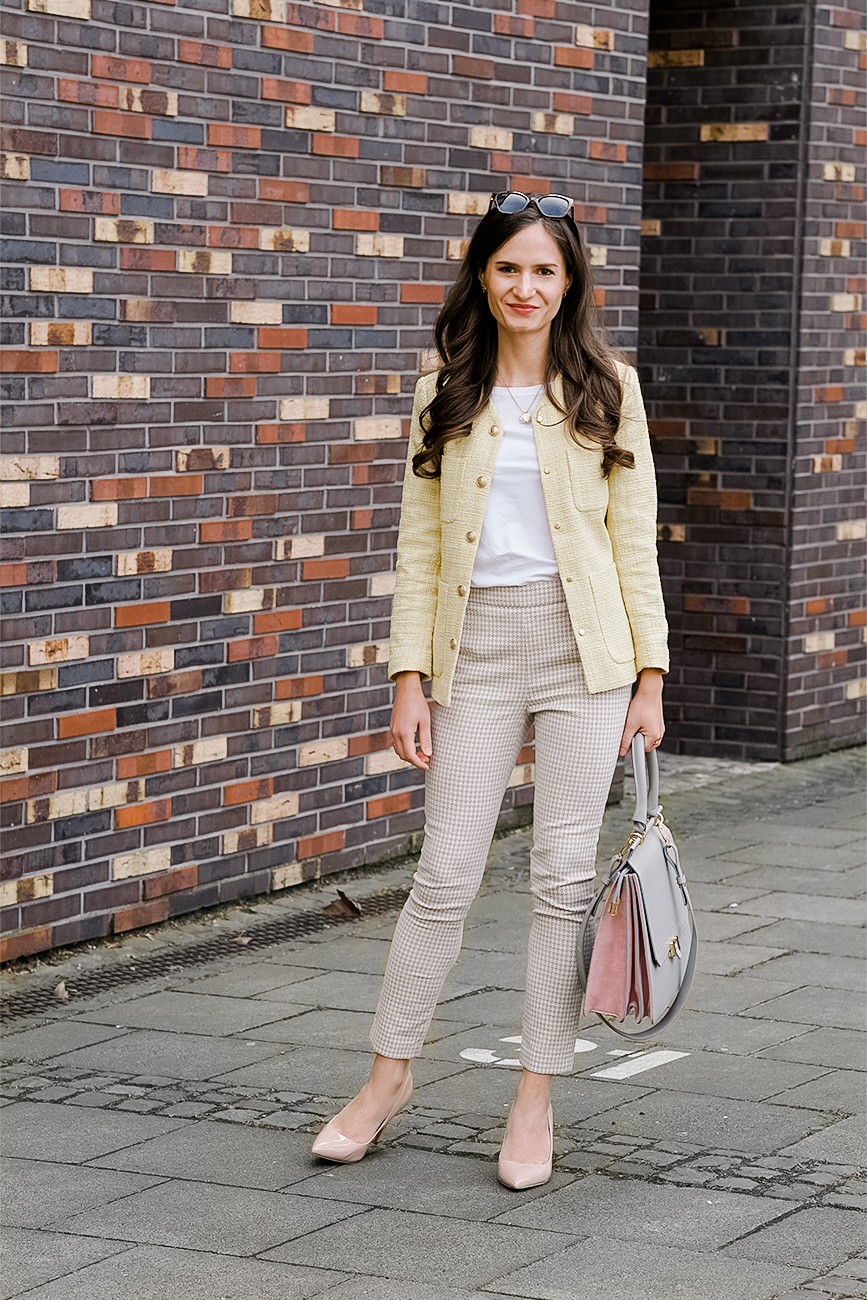 My favorite bouclé blazer this season? This yellow jacket from H&M with its springlike yellow color and golden details, which I combined with high waist Sézane trousers and a basic top underneath. I finished this look with my Maison Héroine Marlene bag and classic, nude heels. Believe me when I say that I haven't felt this put together in a long time!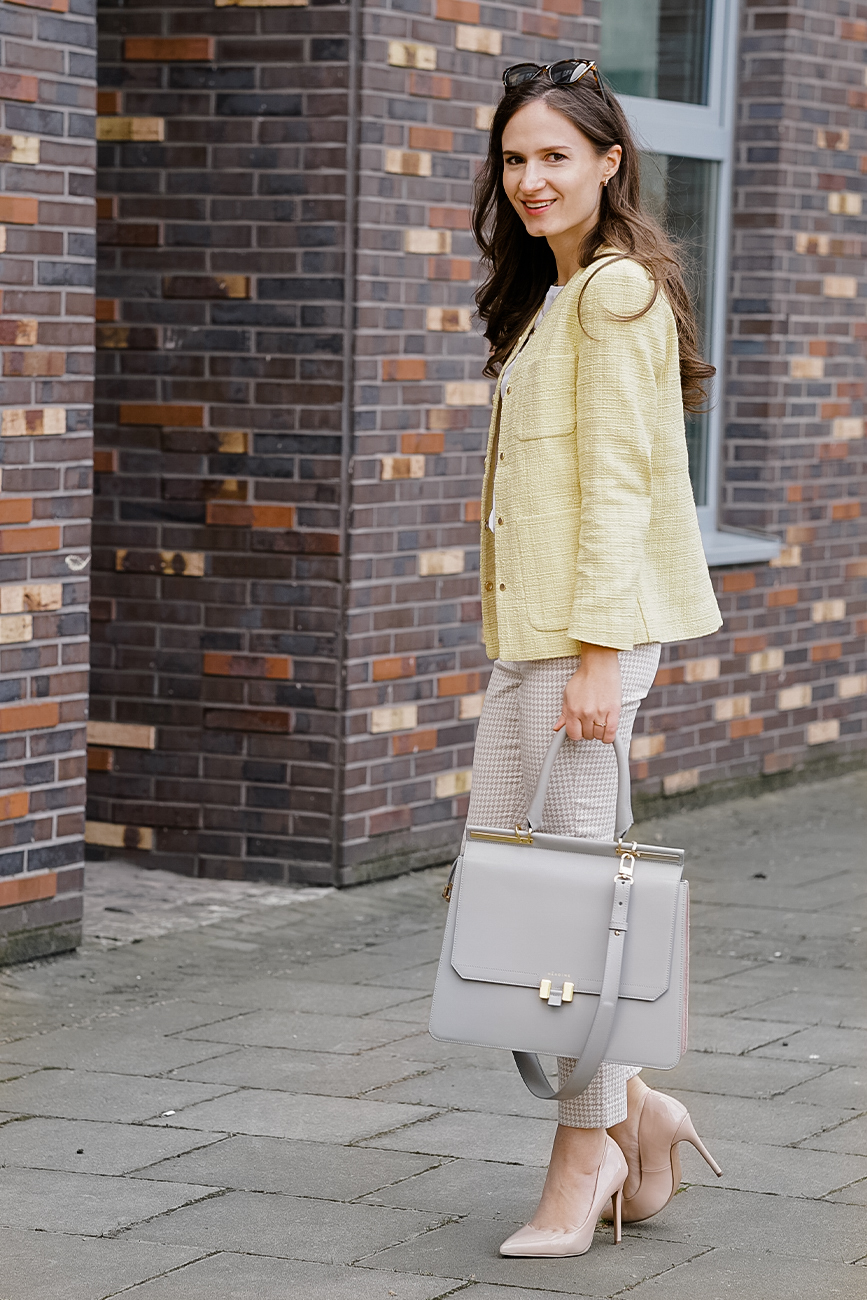 Of course, I've also linked you more bouclé blazers and jackets, I've kept an eye on this season:


Bonus tip when searching for a bouclé jacket online: Also use the keyword "tweed". Quite often, bouclé jackets are tagged with this keyword as well. This may simplify your search and help you to find the style you are looking for!
Good to know: Bouclé and Chanel
By the way: The french word "bouclé" means loop or curl and refers to the special characteristics of the fabric with its knobbly effect. It is inseparably linked with the House of Chanel, as Coco Chanel designed the first bouclé jacket (the Little Black Jacket) back in 1954, which became an absolute classic thereafter.
Hardly any other look is so inseparably associated with a brand as it is the case with Chanel. Chanel stands for elegance, feminine confidence and French chic – and these associations really never go out of style, right?
With much love,
Teresa