It's been a few weeks since our little Mallorca getaway and I can no longer deny that autumn has finally arrived in Germany. Although we are granted a few last warm summer days, the cold-wet autumn weather finally made it's way to our everyday life. In my opinion, this is reason enough to create a summer feeling here on the blog for the last time this year – of course with a flood of pictures from my holiday on the beautiful Balearic island.
Do you still have your vacation ahead of you or are you looking for the best summer sale offers for your next trip? Here are some of my top picks and favorite outfits I wore in Mallorca.
A relaxed seashell dress for beach days and long summer nights
The seashell trend was unmistakable THE trend this summer. We saw seashells on almost everything – from seashell necklaces and earrings to seashell bags and sandals. Everything was filled with the beach-ready gems (including our Instagram feeds). Of course, I couldn't resist when I discovered this dress from Asos Design right before our vacation. It follows the trend, but is a timeless piece at the same time for hot summer days at the beach or for going out on warm summer nights. I've paired it with my favorite Etsy straw bag and matching heeled sandals and voilá – I was ready to go. It's quite sad I was able to only wear it once this year, but I'm sure it will also accompany me on my next vacation.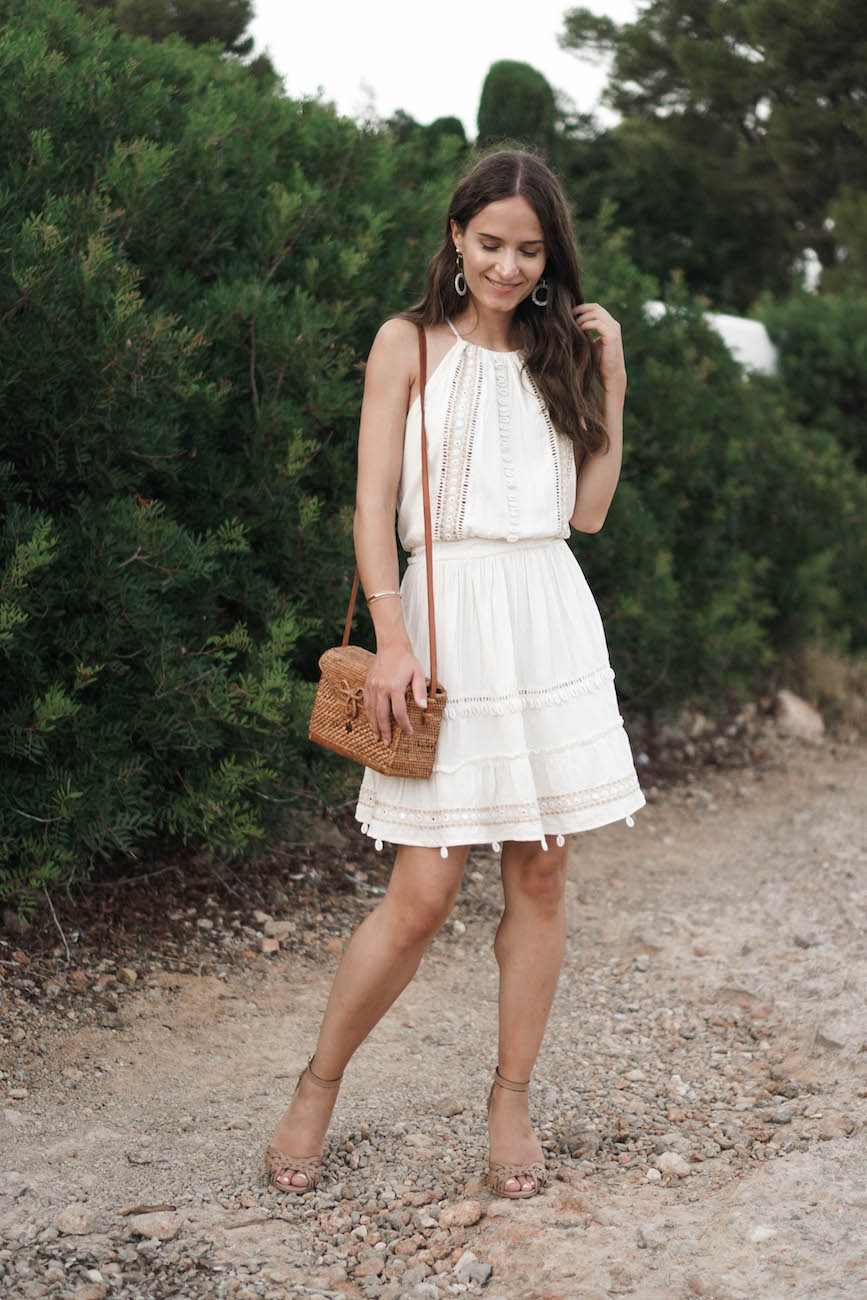 ---
Shop my look
Dress – Asos Design (shop here)
Earrings – Oasis (similar here)
Sandals – Next (similar here)
Ratan bag – Etsy (shop here)
Bracelet – Asos Design (similar here)
---
A striped swimsuit you will wear all year long
This may not be an usual #ootd, but I thought that it was absolutely necessary to dedicate some lines to this gorgeous and flattering swimsuit model by Seafolly. If there ever was a swimsuit designed for posing, it's this one! The direction of the stripes is absolutely flattering and you can wear it strapless to avoid nasty lines when you are lucky enough to catch a tan. Overall, it's a timeless and chic peace that makes everyone look (and – most importantly – feel) fabulous by the poolside. I've never been a swimsuit person (and haven't owned one since I was a kid), but in this one I feel totally comfortable. Paired with stylish yet classic sunglasses, you are ready to discover your inner poolside glamorous side!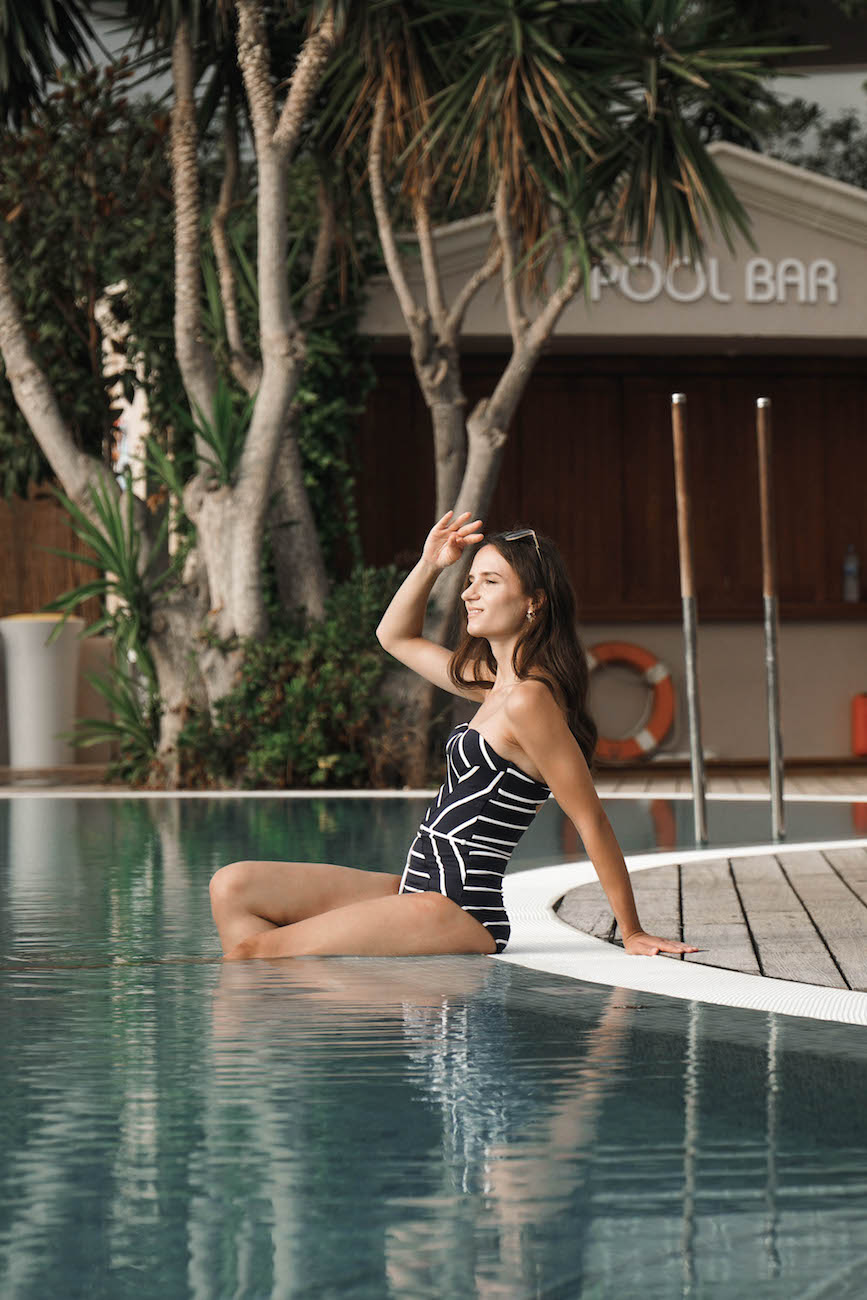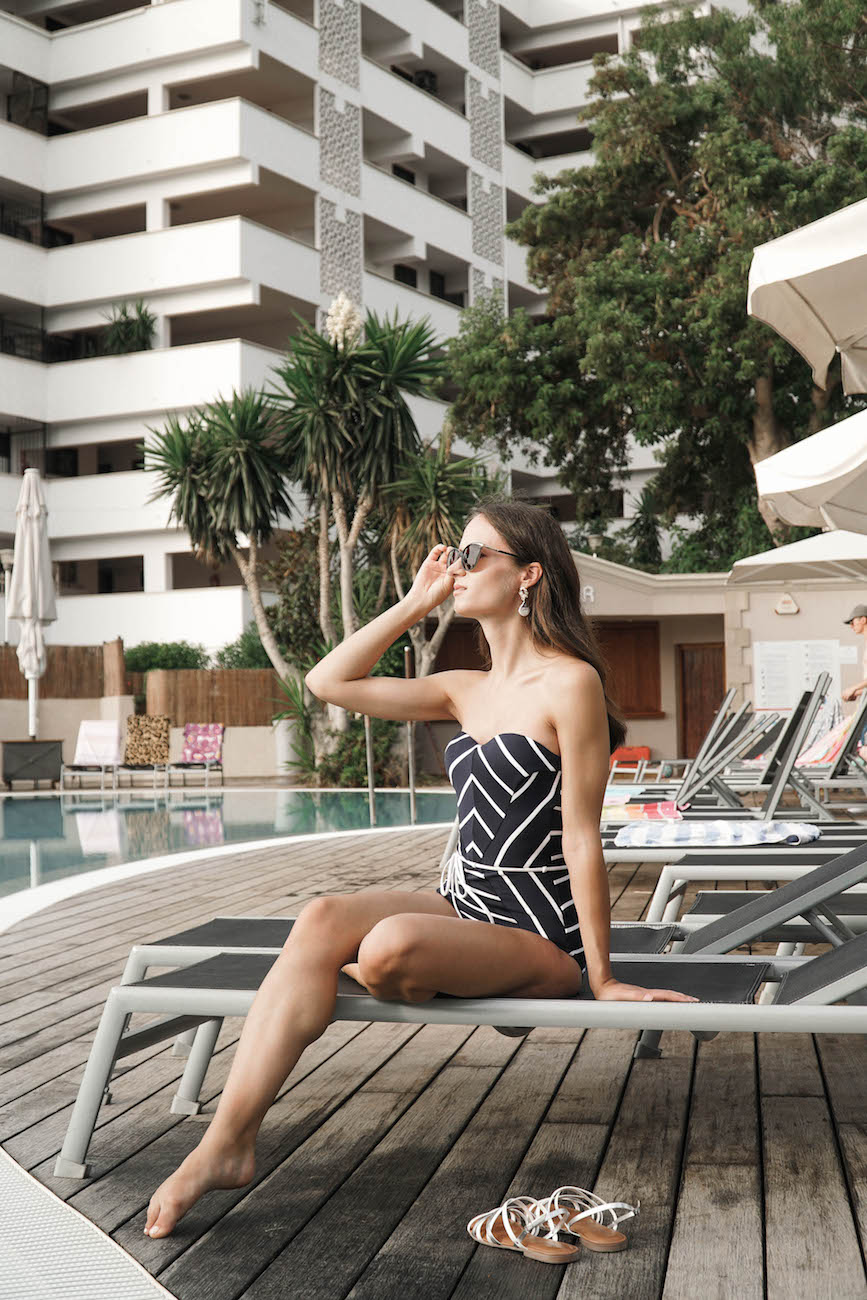 ---
Shop my look
Swimsuit – Seafolly (shop here)
Earrings – Asos Design (shop here)
Sunglasses – Ralph Lauren (shop here)

---
Following the all white trend with a fun playsuit
With short legs, high-quality materials and trendy colours, the playsuit is the coolest – and most practical – alternative to summer dresses. I loved this all white, lacy playsuit by Miss Selfridge this summer as it's such a versatile garment that can easily be dressed up or down – depending on the occasion. During our Mallorca getaway, I've dressed it down with sandals for an relaxed afternoon city stroll and made it look more fancy with some heels at night.
---
Shop my look
Playsuit (shop here)
Sandals – Tamaris (similar here)
Ratan bag – Etsy (shop here)
Earrings – Bijou Brigitte (similar here)
Bracelet – Asos Design (shop here)

---
With much love,
Teresa