It feels like life as we know it turned upside down during the last couple of weeks. We are officially in the Coronavirus pandemic which comes along with contact bans, lockdowns, quarantines and even curfews, depending on where you are in the world right now.
The best thing we can do right now is staying at home and practicing social distancing. It's an extremely stressful situation for everyone and more than ever we find ourselves in a vicious circle of fear, panic and negative thoughts. But now, more than ever, we need to take care of ourselves – mentally and physically. 
During the last weeks I was able to find out what works best for me and keeps my mind calm and positive. This is why I want to share with you 10 mindful and conscious ideas for more self-care you can easily practice at home. 
HERE ARE A FEW WAYS I'M TRYING TO PRACTICE SELF-CARE IN THE MIDDLE OF A PANDEMIC:
River Island Bardot Sweater | H&M Joggers
1. Disconnect from the noise
It's important to stay informed, especially what's going on in your immediate surrounding or region. But there's a difference between staying informed and excessively consuming content that nourishes your fear, stress and anxiety. A part of us finds pleasure in all of this drama and craziness – it's almost like a horror movie we can't look away from. This is why we keep scrolling through our news and social media feeds, looking for the next shocking piece of news and content. But as someone who's been down that rabbit hole, let me tell you this: Fear only fuels more fear. So disconnect from the noise, set times when you consciously put your phone away or on airplane mode in order to create a calm mood. Rather use the time you spent on social media or news sites for a short meditation or listen to your favorite (calming or uplifting) playlist.
2. Keeping a gratitude journal
Practicing gratitude is one of the simplest ways to improve your well-being and to bring happiness into your everyday life. I think these days we need it more than ever and I want to encourage you to start with a simple gratitude journal today. It will not only shift your mind from anxiety to appreciation, but also change your life for the better. I use the Five Minute Journal (take an inside look into the journal here), but you can keep it as simple as possible by just writing down several things you are grateful for each day. Additionally, you can note three amazing things that happened during the day before going to bed. In this way, you get to value the simple things and develop a positive outlook on life on a day to day basis. The best thing: It only costs you 5 minutes a day!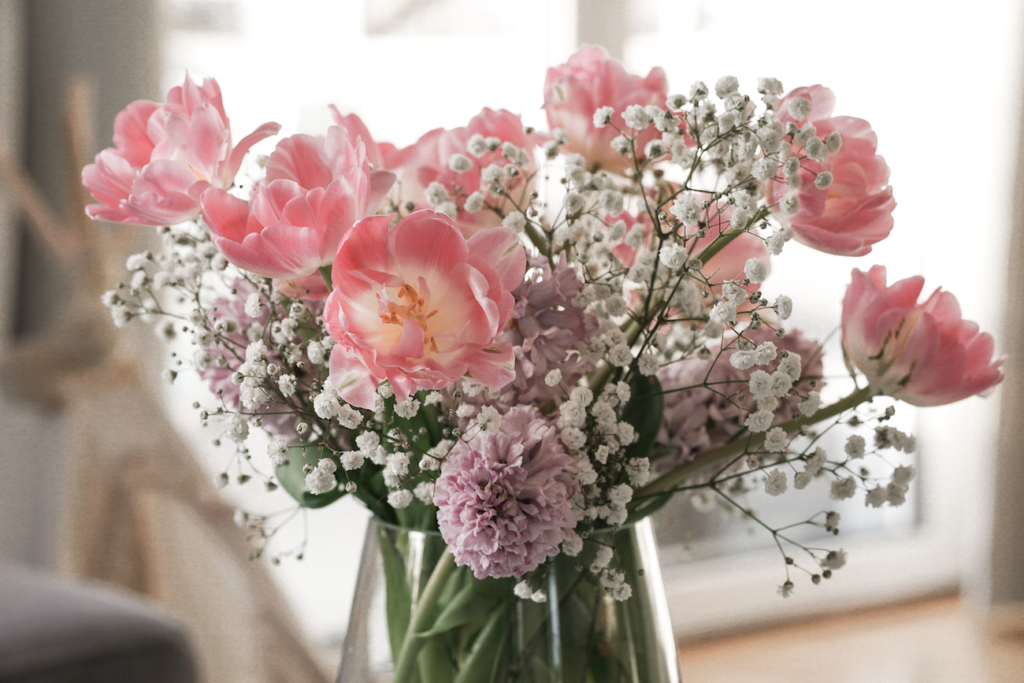 3. Declutter and organize your space
When the outside world feels out of control, try to focus on the things that you actually can control. Home is where we will probably keep spending most time during the upcoming days and weeks. So why not make your space the place you actually WANT to spend time at? You can start by cleaning or even declutter your space so it feels tidy, fresh and cosy. Or how about rearranging your decor or furniture? This week I gave my home office a complete refresh and a formerly unpleasant room became my favorite space in our home. But no matter what feels right for you: Your mind will feel more calm afterwards, even after a little clean up, I promise.
4. Practice a hobby or creative activity
Is there a hobby or activity you always wanted to start with but never had the time for? Or an old hobby you want to pick up? Well, now is the perfect time for that! Unfortunately, hobbies are usually considered the least important things on our priority list, but actually do so much for our happiness. It can be anything from playing an instrument, painting, writing, lettering, doing DIYs… The list is endless! I took piano lessons for more than 10 years when I was a child and teenager and decided that now is the exact right time to finally get an e-piano and revive this hobby. I love it so much and every day it brings me so much joy, fun and happiness.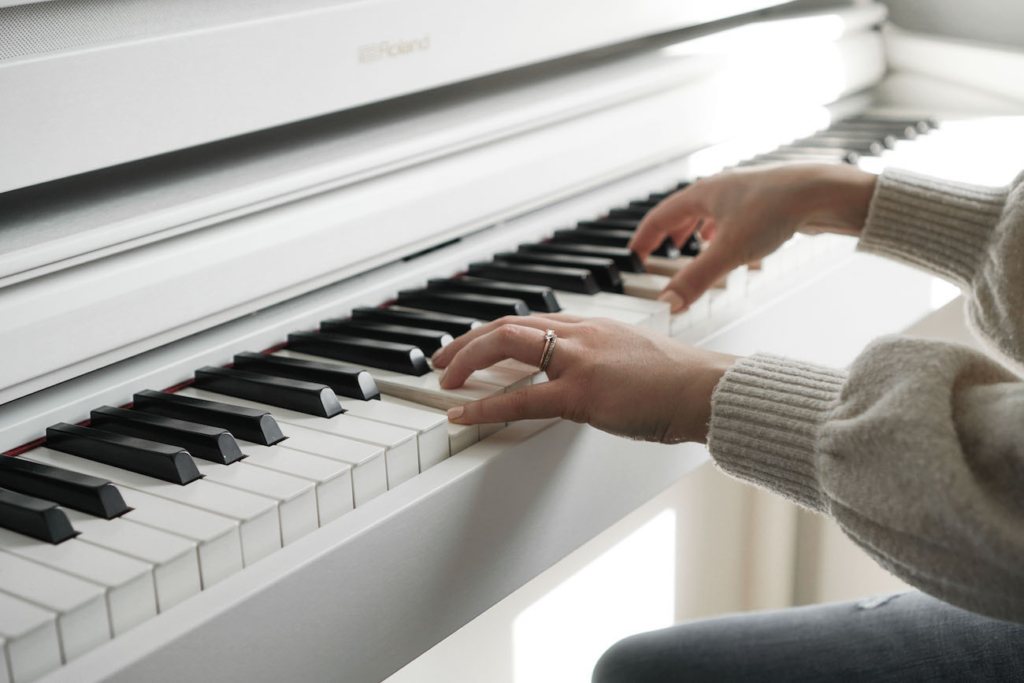 5. Do some reading and listen to audiobooks
Reading is such a powerful tool to learn new things, get inspired and travel to new worlds and far away places in the comfort of your own home. So get lost in a good book – it doesn't matter if it's something practical to feed your mind and explore new ideas or something fictional to escape your everyday life, as long as you are enjoying it. As for me, I can never decide whether to read a new book on personal growth or another Stephen King thriller. I also highly recommend podcasts and audiobooks (I have used Audible for several years now and never want to miss it again!), because they allow you to multitask. Just listen to a book while making dinner, cleaning your space or doing your makeup (if you currently wear any at all at home). 
Rituals Bed & Body Mist | L'Occitane Rose Hand lotion | URBAN NATURE CULTURE Tea and Coffee Mug
6. Take an online class
Use the time to learn a new skill or deepen your knowledge on certain topics you are interested in, e. g. through YouTube tutorials or online classes. A really amazing platform for online classes I want to recommend here is Skillshare. It's an online learning community that offers membership with meaning through feasible classes, taught by real creators of the respective industry or field. I have an annual subscription and especially love taking classes in photography, image editing and productivity. But there are so much more topics that are addressed, so I'm sure it's also something you could benefit from. Why not learn more about interior design and styling your space, now that we are stuck at home?
7. Create a vision board
Take some time for yourself to gain clarity on what you want to achieve and what to attract into your life in the near or far future. Manifest all your thoughts in a digital or physical vision board by using images, words and quotes that best represent your goals and visions for yourself. Make sure to hang it on a wall where it's always visible to yourself. I love this exercise because you can gain so much clarity on what you want to accomplish and how you want to feel in the next year(s) or your life in general. It's a daily reminder to work towards your goals and strive for your dreams, so they can manifest over time in your life.
8. Exercise at home
I have to commit that I am usually not an active person at all. But during a week off, spending all the days at home, I used the time to find some exercises that are fun to do, even for me. I can imagine incorporating yoga and stretching in my daily routine from now on as it helps to relax my mind and body. Find workout videos e. g. at YouTube and make your living room (or balcony on warmer days) your personal fitness space. In regards to yoga classes, I highly recommend Yoga With Adriene on YouTube and the Down Dog app (both also perfect for absolute beginners!).
9. Watch some feel good TV shows
Don't you feel like being active or wanting to learn a new skill? That's totally fine, believe me! Don't feel bad if you just want to cuddle up on the sofa and binge watch a Netflix series, escaping all the drama and bad things that happen in the world right now. I spend most of my evenings in this way – preferably with a feel good TV show. A light-weighted Spanish telenovela like Velvet definitely helps to get in a good and carefree mood. Downton Abbey and Gilmore Girls are other series that always make me raise a smile. So grab a hot cup of tea, a warm blanket and get cosy for a date with Alberto, Mr. Carson or Luke Danes!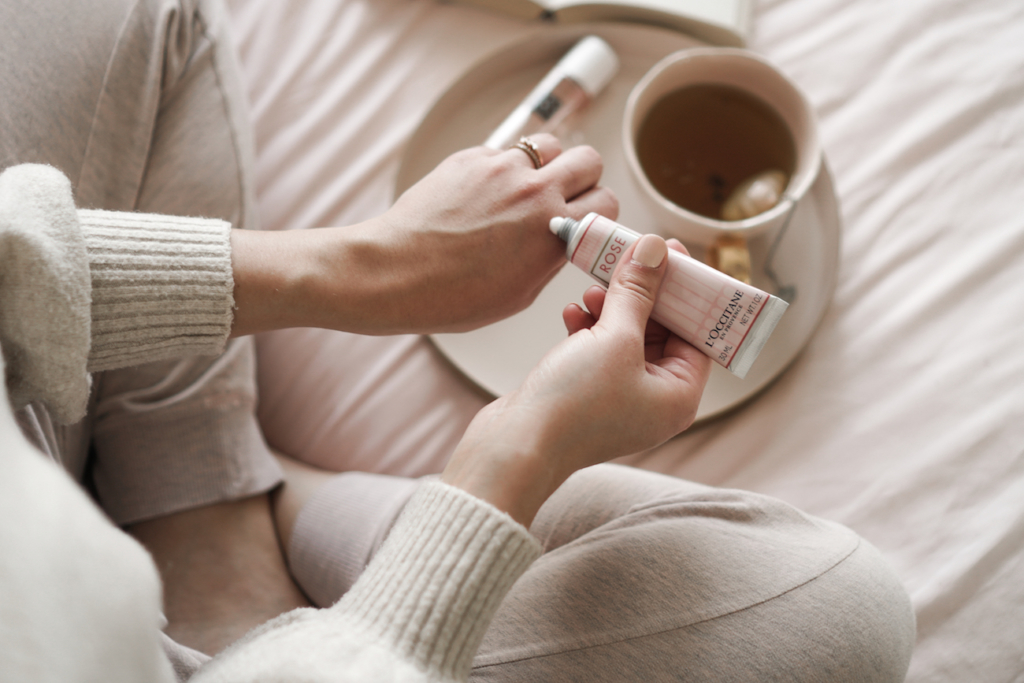 10. Be present and connect with your loved ones
Whether it's a delicious meal, the warm sun on your skin, a hot bath or time spent (virtually) with your loved ones: Enjoy the little things and be present in the very moment. Check on your friends, family members and other loved ones, connect and spread compassion. Or how about sending cards and little packages (e. g. with the latest book you read)? There is so much truth in the quote 'We rise by lifting others'. Random acts of kindness are what helps us to overcome this time and bring much more light and positivity into our lives. And believe me, sometimes a good and deep conversation with a friend can work like a therapy session, even if you don't see each other in person. After all, we are all in this together!
How are YOU practicing self-care during Covid-19?
I shared some of my personal self-care ideas in this article, but the point is to not feel pressured or forced to do anything during this current time. Just do whatever makes you feel more positive, balanced and inspired. Like with everything you do, follow your heart and do what works best for you. 
Are there any other tips you would like to add to this list? Comment here or under my latest Instagram post – I would love to hear your thoughts and ideas! 
With much love,
Teresa