My latest trip along Britain's south coast left me in complete awe of its stunning scenery and unique beauty. Dorset's Jurassic Coast was probably the most impressive scenery of nature we have seen during our trip. This nearly 100 mile stretch of coastline not only boasts natural arches, limestone stacks and the most stunning beaches, but is also known for its breathtaking coastal walks.
In order to appreciate the UNESCO World Heritage Site to the fullest and to see the best of the Jurassic Coast, I have put together 4 of the most impressive Dorset coastal walks. They include dramatic countrysides, most spectacular views and unforgettable sceneries, that will leave you speechless.
---
---
1 – DORSET COASTAL WALK TO OLD HARRY ROCKS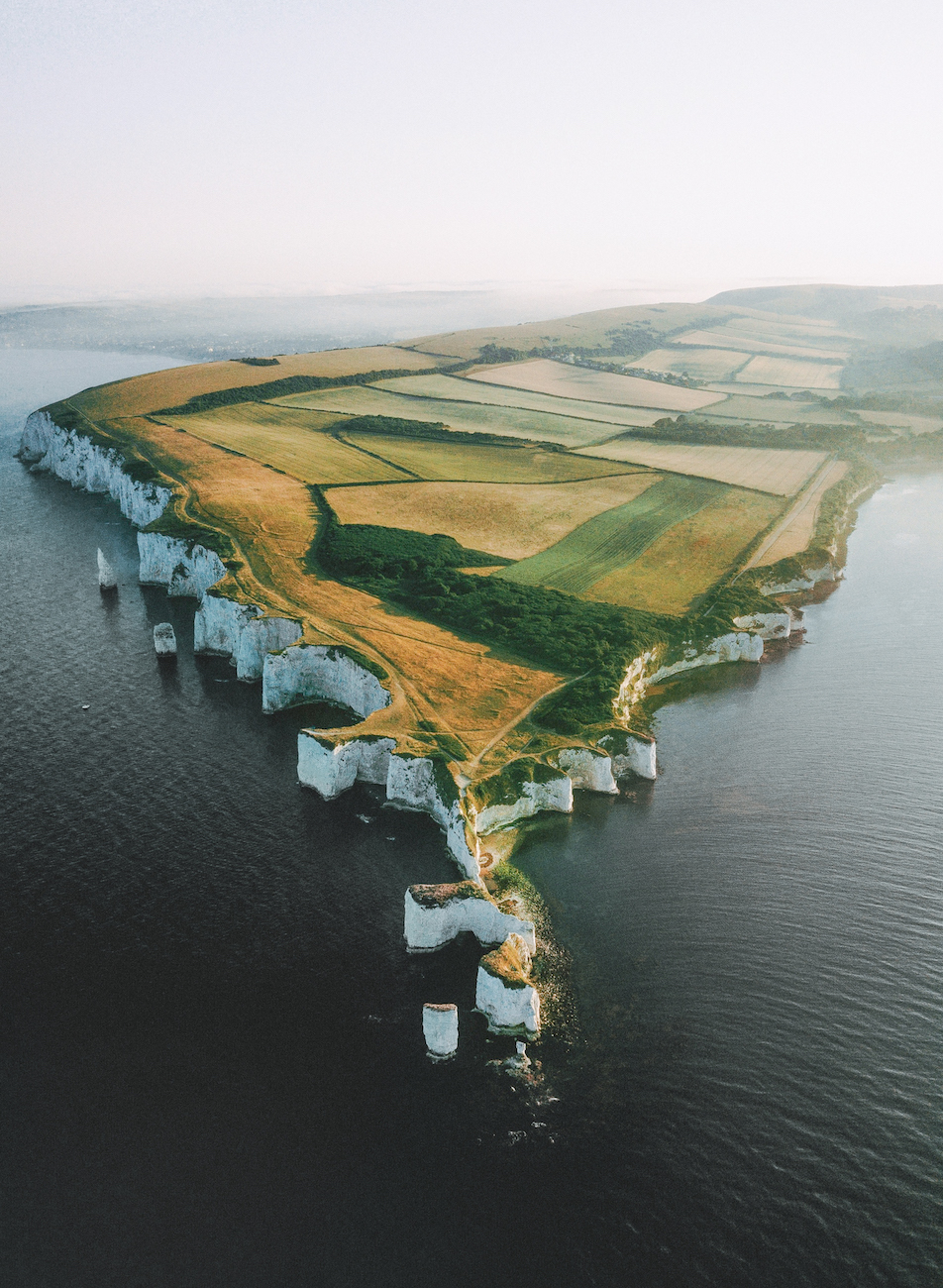 Difficulty: Easy | Distance: 2.3 kilometres (1.4 miles) there and back; 6.4 kilometres (4 miles) round trip | Time: 50 minutes or 2 hours | Start: South Beach Car Park, Studland | Tip: Make sure you don't stand too near the edge of the cliffs when taking photos. | More detailed info here
Old Harry Rocks mark the most eastern point of the Jurassic Coast. This headland juts out into the sea and ends in several spectacular chalk stacks that were created by millions of years of erosion. Good to know: Old Harry is the name of the single chalk stack standing furthest out of the sea. It was once accompanied by another stack ("Old Harry's Wife"), which unfortunately tumbled into the sea in the 19th century, leaving just a stump.
Starting at the South Beach Car Park in Studland, it's an easy 25 minute walk till Handfast Point. There you will have incredible views on the white, rough cliffs and the popular chalk stacks. After enjoying some time there, you can either walk the way back to Studland (25 minutes each way) or complete a loop by following the coast path around Ballard Point (appr. 2 hours).
No matter which route you take – make sure to give this pure, rough and simply fascinating place a visit during your stay on the Jurassic Coast!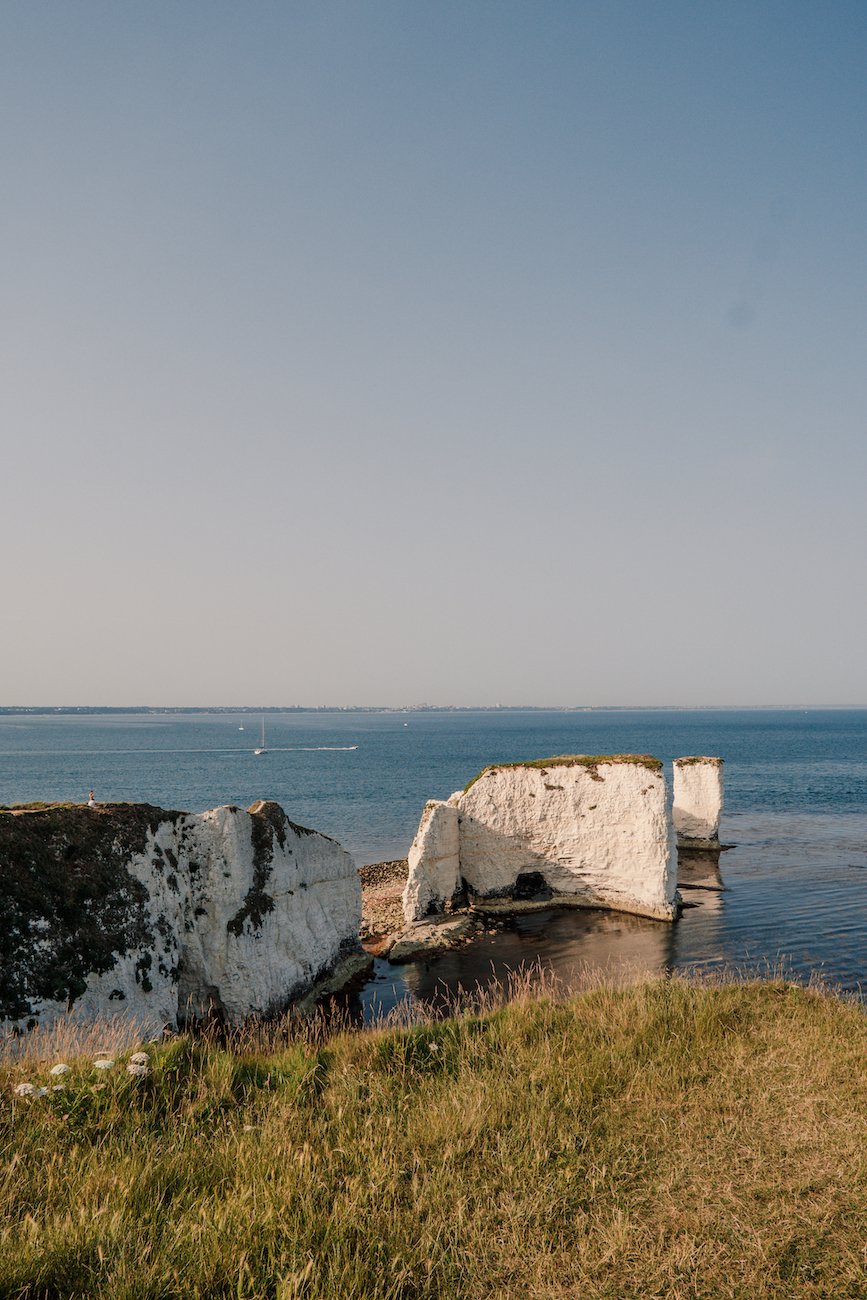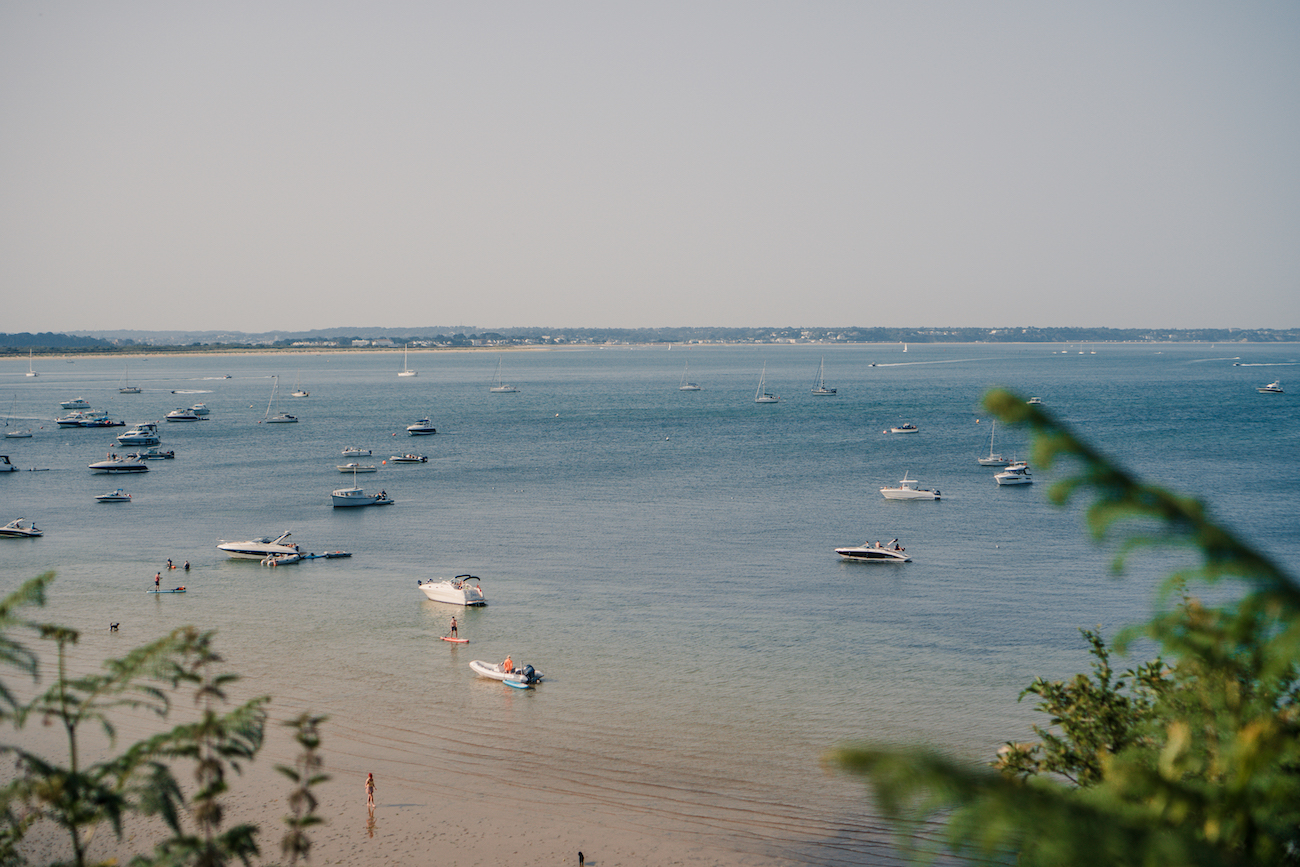 ---
2 – DURDLE DOOR TO LULWORTH COVE
Difficulty: Easy | Distance: 2 kilometres (1.25 miles)| Time: 30 minutes | Start: Durdle Door Car Park or Lulworth Cove Car Park | Tip: Take the path off the beaten track or come early or late during the day to avoid the crowds. | More detailed info here
This easy Dorset coastal walk connects two of the most iconic landmarks of the Jurassic Coast – Durdle Door and Lulworth Cove. I'd even argue that this is THE prettiest Dorset coastal walk. So if you do only one hike on the Jurassic Coast, this is the one to go!
While you can do the walk in either direction, I'd highly recommend to end your walk at Lulworth Cove. Lulworth has a great pub which is perfect for refreshing post-walk drinks. Believe me, even after this short hike you'll be more than grateful for that – especially if you visit during the summer months. In Lulworth you can also find plenty of shops, cafes and a visitor centre.
For this walk, you just need to follow the South West Coast Path towards Lulworth Cove (or Durdle Door). As it can get very crowded, I recommend to take the less obvious path nearer to the cliffs. Take enough time to admire Durdle Door, the famous limestone sea arch and maybe the most iconic Dorset landmark. Extra tip: Although it's a very steep climb, don't miss to head on to Bats Head above Durdle Door – you won't regret it! After that, you'll pass Man O'War Beach and the folded limestone rocks of Stair Hole and finally reach Lulworth Cove. On your way, you'll be spoiled with one of the best views on the Jurassic Coast.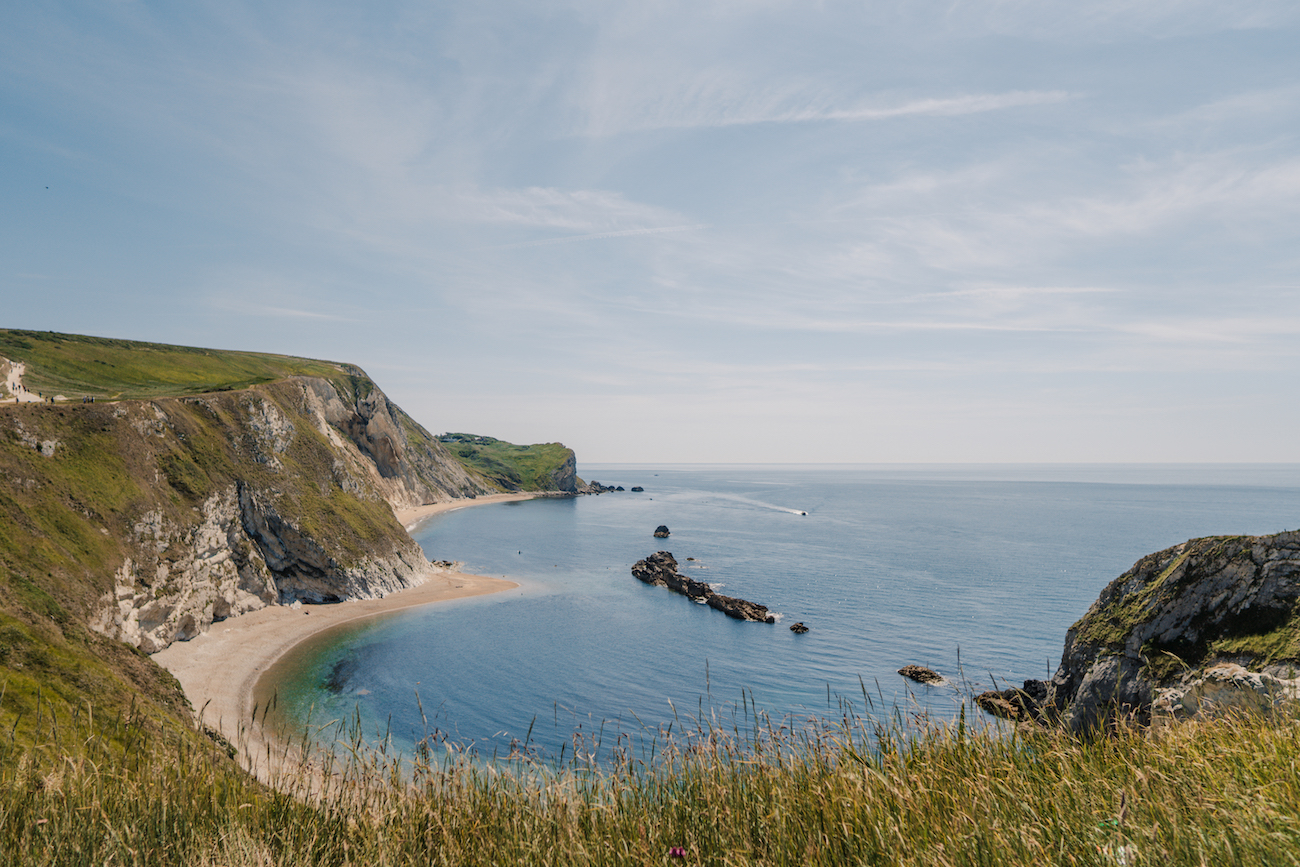 ---
3 – COASTAL WALK TO GOLDEN CAP
Difficulty: Medium-Hard | Distance: 3.8 kilometres (2.4 miles)| Time: 2 hours | Start: Seatown Car Park | Tip: When reaching the top, make sure to follow the path a little further for the best views. | More detailed info here
Although this was maybe the most exhausting hike I did on the Jurassic Coast, I highly recommend accepting the challenge and adding it to your list of Dorset coastal walks! With 191 metres (627 feet) Golden Cap is the highest point in southern England. On the top, you are rewarded with expansive views as the cliffs disappear off in the east and west.
Start your walk at the car park in Seatown and simply follow the waymarked South West Coast Path up to the summit. In sum, it's just over 1 mile, but due to the steep path – coming across beautiful wildflower meadows – it will take you about 30 – 40 minutes. At the top, you have the choice to had straight back the way you came or to complete a loop via Stanton St. Gabriel and Langdon Lane.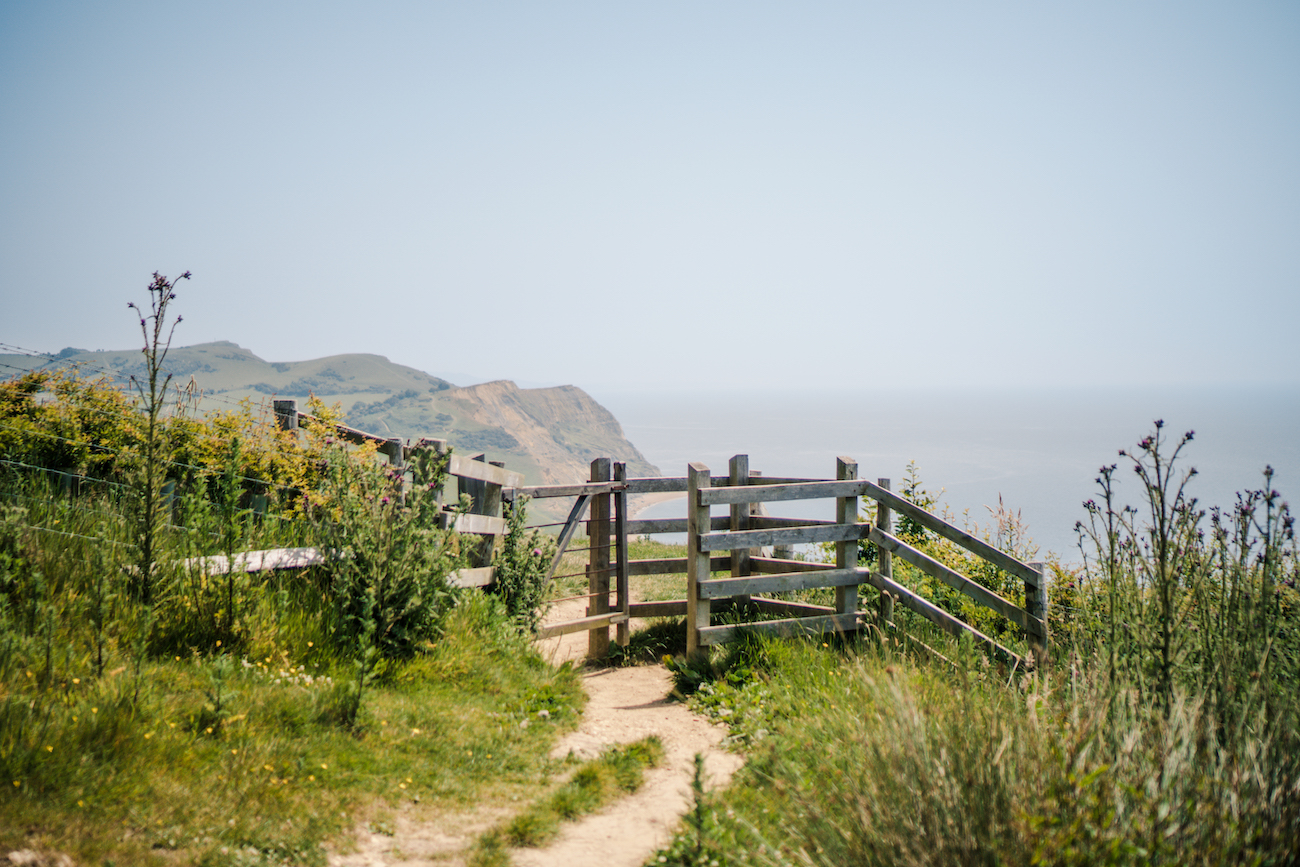 ---
4 – WEST BAY HARBOUR TO BURTON BRADSTOCK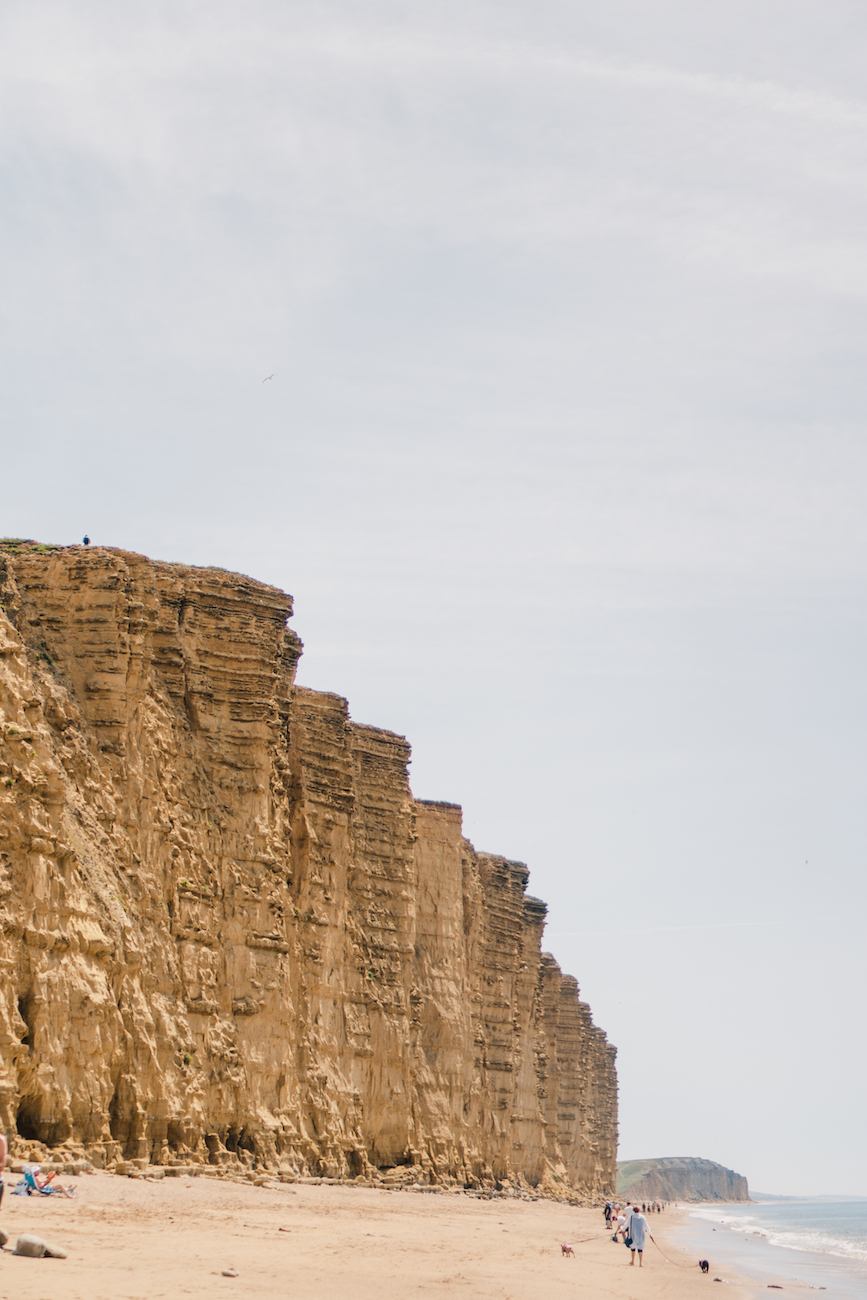 Difficulty: Medium | Distance: 8.6 kilometres (5.3 miles)| Time: 2.5 hours | Start: East Beach Car Park | Tip: Whether you are visiting for a walk or just a short stay, make sure to walk down the beach and stand below the impressive cliffs. | More detailed info here
The cliff walk from West Bay to Burton Bradstock is one of the most recommended hikes on the Jurassic Coast. This is hardly surprising, since this coastal stretch features rather golden, sandstone cliffs than limestone and gives you a perfect impression of the versatility of the Jurassic Coast. Maybe best known for ITVs hit series "Broadchurch" West Bay's cliffs but also the harbour are worth a visit and you shouldn't miss them when visiting the Jurassic Coast.
Park at the East Bay car park in West bay right at the beach and take a stroll along the beach and harbour (as I did). Otherwise, take the circular walk to Burton Bradstock and back. The walk first leads slightly inland through a golf course, before heading back along the high sandstone cliffs via the South West Coast Path towards West Bay.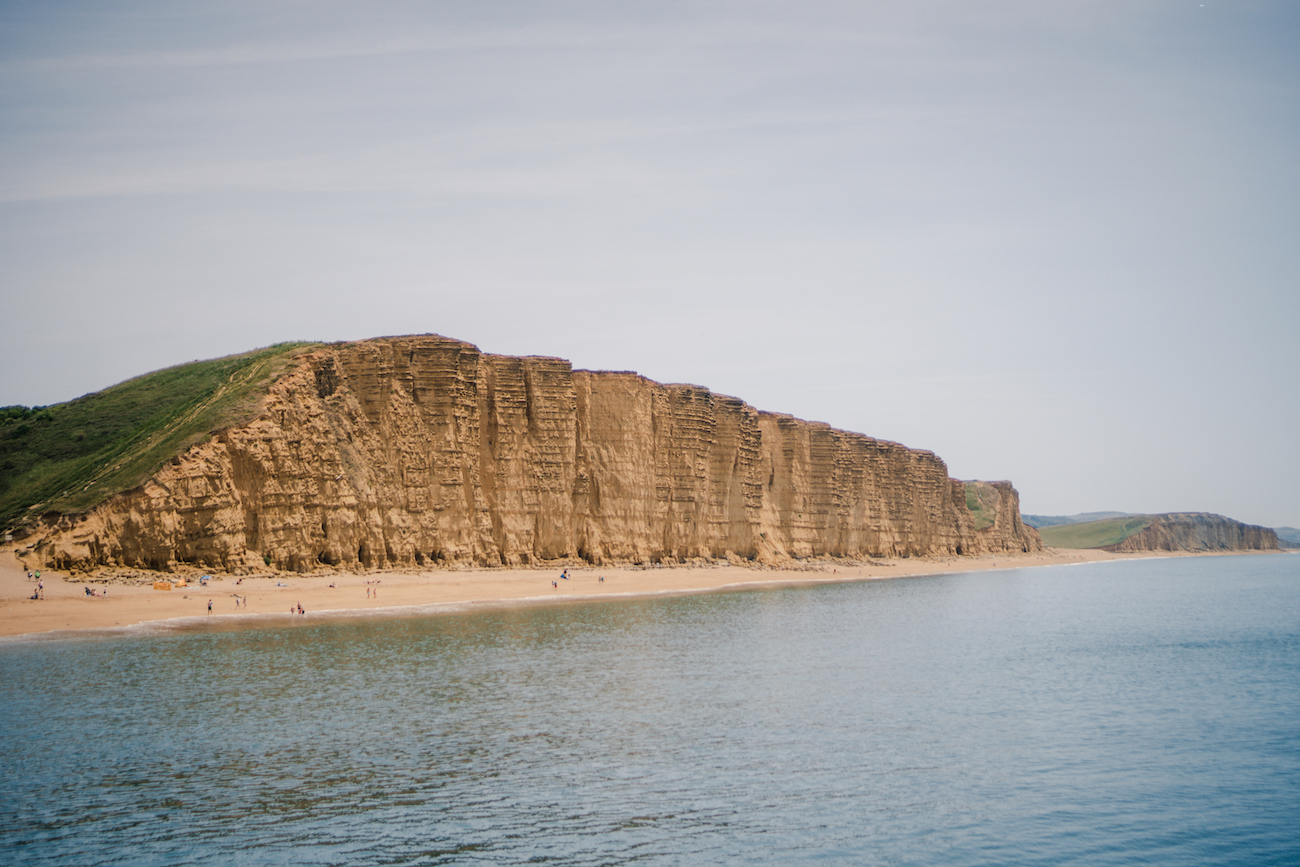 ---
5 – GENERAL TIPS FOR DORSET COASTAL WALKS
1 – All paths, especially the ones following the South West Coast Path, are generally well signposted and easy to follow. Nevertheless, allow yourself more time during these walks to fully absorb the beauty of nature and soak up the views.
2 – Always make sure you have a little bit of a loose cash backup for the car parks. While most car parks accept cashless payment, there are some exceptions (like the car park in Seatown). To avoid the stress on-site, always make sure you have some cash with you as well.
3 – On dry days you can do most of these walks in trainers. I recommend to pack hiking boots for bad weather or longer and more exhausting walks (like the one to Golden Cap) as they give more stability.
4 – Make sure you pack a camera (to capture the breathtaking views in their whole glory!), a good sun protection and hat (don't underestimate the sun on the coast!) and swimwear (to take a refreshing plunge at one of the impressive beaches; you can thank me later!).
5 – Some of these walks can get quite busy, especially during summer season. Therefore, I recommend to start either early on the day or late in the afternoon to beat the crowds.
With much love,
Teresa